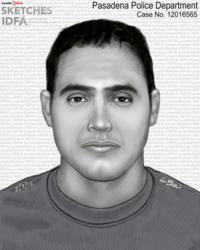 (PRWEB) November 04, 2012
A private investigator is asking for the public's help in identifying the suspect in connection with a recent daytime burglary.
The suspect entered the apartment on East California Boulevard in Pasadena, Calif., around 1 p.m. on October 31, and a made off with victim's MacBook Pro laptop computer, which contains precious family photos and memories. A witness worked with a top-notch sketch artist from LeadsOnline Sketches to create a likeness of the suspect. The private investigator has personally offered a $2,000 reward for information that leads to the recovery of the laptop with data still intact, and/or the apprehension of the suspect.
The suspect is described as being between 25 and 35 years of age, approximately six feet tall, light skin (believed to be Caucasian) and dark hair, wearing a sleeveless shirt and small drawstring-type backpack.
Anyone with information about the suspect and/or MacBook Pro should call the LeadsOnline Sketches tip line at 972-331-6774.
LeadsOnline Sketches makes it possible for anyone, anywhere to work, with a world-class, professional forensic artist who will interview a witness anywhere, and then create a digital composite sketch of the suspect. The artists behind LeadsOnline Sketches work with law enforcement and criminal investigators daily to help further criminal investigations.
###
About LeadsOnline: LeadsOnline is the hub for criminal investigations in the United States. Each day, millions of items are added to the LeadsOnline system by businesses including secondhand stores, scrap metal recyclers, music and electronic stores, pawn shops, and Internet drop-off stores across all 50 states. An official eBay partner, LeadsOnline helps prevent illegal transactions on eBay by giving law enforcement access to the world's largest online marketplace through the automatic upload of all eBay transactions into the LeadsOnline system. LeadsOnline also includes LeadsOnlabs MethMonitor, a system for tracking those involved in the illegal manufacture of methamphetamines; a Metal Theft Investigation System (MTIS) designed to track copper and other metal thefts; LeadsOnline Sketches, providing departments access to a skilled forensic artist anytime, anywhere; and cross-checks names of pawn customers against the OFAC SDN list of known terrorists and narcotics traffickers. Each year, LeadsOnline is credited with recovering millions of dollars in stolen goods and solving thousands of crimes that are often associated with bigger crimes, such as homicide, identity theft, and arson. Based in Dallas and led by Dave Finley, LeadsOnline works with more than 4,200 agencies throughout the country, including the Seattle Police Department, Tucson Police Department, Indianapolis Police Department, Dallas Police Department, and the Chicago Police Department. For more information, please visit http://www.leadsonline.com.