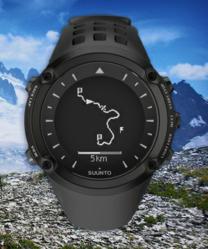 We've tested this watch for months and there is nothing else like it, in fact, it is our #1 pick for GPS watches for 2012
Bozeman, MT (PRWEB) November 06, 2012
Track vertical feet, maps, speed, top speed, distance skied and receive incredible maps of your entire day with Suunto Ambit, a ski experience like no other according to the Heart Rate Watch Company.
Heart Rate Watch Company owner Rusty Squire finished 2nd in the 24 Hours of Aspen with the late Doug Coombs and was the first skier in history to ski over 300,000 vertical feet and 100,000 meters in one day. "We've tested this GPS watch for months and there is nothing else like it, in fact, it is our #1 pick for GPS watches for 2012 for all sports, minus triathlon", says Squire.
The Suunto Ambit also makes a great training watch for the off-season for mountain biking, running, cycling, inline skating and about every conceivable outdoor sport. "The level of map detail for any sport, combined with speed data, heart rate metrics, calories burned and more is just phenomenal", states Squire.
Suunto Ambit heart rate monitor offers a barometric altimeter, compass and even on screen maps with an accuracy no predecessor can match.
"I've skied the big mountains in Europe, every major US resort, lots of back country and a lot of the Selkirk's and Monashee's, and I can't imagine anything that would have been more useful for those experiences than the Suunto Ambit", says Squire, adding "This is now the watch I use and, until something better comes out, this is my watch".
Customers using the watch have forwarded the company all kinds of detailed maps of their outdoor adventures. "It is nice to see how inspired people become when their adventure can be shared in great detail, it takes on a whole new meaning", says Squire. The Suunto Ambit combined with Movescount software, or other mapping software, can render great mapping detail and metric data on heart rate, calories, altitude and other factors.
"Skiing out of bounds at Jackson Hole, Aspen Highlands or even in bounds at Big Sky this watch would "be the nuts" and in places like Blackcomb and Whistler with the weather they get it could be indispensable", says Squire. He adds, "It is the most durable, intuitive and accurate watch we have ever tested and I've been testing these things since 20 years ago with Avocet".