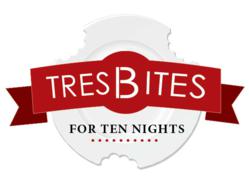 Tres Bites for 10 Nights is our way to give our community a mouth-full of deals and a free gift to say thanks.
Colorado Springs, CO (PRWEB) November 05, 2012
Food lovers prepare for Tres Bites for 10 Nights at The Blue Star, Nosh, La'au's starting Nov. 12 thru 21, along with other fall events and promotions. For 10 days only, the three Blue Star Group restaurants will each feature exclusive specials: $5 for a set of the new Hawaiian-style Tilapia tacos and a side of tortilla chips at La'au's; $18 for a plate pairing with two pints of a selected craft beer at Nosh; and $50 for a four-course meal for two at The Blue Star. Plus, guests are offered a chance to receive a free Blue Star Cookbook.
"We own a medley of restaurants all along Tejon Street," said Joseph Coleman, owner of The Blue Star Group. "And we finally realized that by giving our three venues the opportunity to play together, we can offer so much more for our guests. Tres Bites for 10 Nights is our way to give our community a mouth-full of deals and a free gift to say thanks."
The Blue Star in November: Turducken Pre-Orders and Belgian Beer Dinner
The Blue Star is ramping up for Thanksgiving with Turducken and Red Velvet Cake pre-orders until Nov. 16. Every year, nearly 400 locals order a fresh-made, ready-to-bake Turducken from The Blue Star – it is a festive combination of fresh boneless breasts of turkey, chicken and duck layered with Andouille and traditional Blue Star stuffing. Plus, with The Old School Bakery pre-heating to open in the Ivywild School in February 2013, Executive Pastry Chef Alicia Prescott is accepting special orders and pre-orders of the most seasonally-requested, cream-cheese frosted Red Velvet Cakes via The Blue Star.
On Nov. 14 at 6:30pm, The Blue Star is set to host a funky Belgian Beer Dinner, featuring a five-course meal paired with five beers from Colorado Springs-based Bristol Brewing Co. and the Fort Collins-based Funkwerks. Special guests and owners of the two breweries – Mike Bristol (Bristol Brewing) and Brad Lincoln (Funkwerks) - will offer expert opinions on the beers. On the menu:
-Funkwerks Saison, a GABF 2012 gold-medal winner, paired with Moules Frites (apple tarragon compound butter, caramelized shallot, and a farmhouse broth)
-Funkwerks Tropic King, an Imperial Saison, paired with California Timbal (crab and avocado salad, banana kewpie mayo, short grain pilaf, and crispy snaps)
-Funkwerks Deceit, a GABF 2012 gold-medal winner, paired with Fall Scallop (seared sea scallop, spiced pumpkin bread, maple pumpkin butter, and ginger bread bacon)
-Bristol Belgian Dubel paired with Dry Fried Wings (crispy chicken wings, apricot duck sauce, and smoked pork fried rice)
-Bristol Belgian Tripel paired with Tripel Brauten (beer brined beef, apple kraut, triple mustard, and garlic confit whipped potato)
Nosh in November: New Half-Off Happy Hour Additions
Nosh was recently awarded the gold medal status in the Colorado Springs Independent "Best Of" for its happy hour. This week, the restaurant released a new half-off food and drink section in the happy hour menu, plus the addition of ceviche. Happy hour at Nosh takes place every Monday from 3:00pm to 8:00pm, and Tuesday thru Friday from 3:00pm to 6:00pm.
"People love our happy hour because we're a hip joint with quality food at a great price," said general manager of Nosh, Tyler Schiedel. "Nothing is being taken off the menu, instead we've added to it. Now with half-off menu items our guests can get great calamari for just $3.50, or local craft beer for just $2.50. We've been saying that happy hour just got happier, and we weren't kidding."
La'au's in November: Tacos & Tunes, featuring Moonhoney
La'au's Taco Shop is hosting a Tilapia taco release party called Tacos & Tunes on Nov. 13 from 4:30pm to 7:30pm, featuring a special performance by Moonhoney. In addition to the celebration, the newest Hawaiian-style fish tacos will do some good for the community: $1 from every savory trio of Tilapia Tacos (set of 3) sold from Nov. 13 thru Nov. 30 will be donated to KRCC's Ivywild Studio via Indy Give! The listener-supported KRCC is a part of the Ivywild School project, working to create the dream studio for live performances, lectures, book signings and more for on-air programming. Through Indy Give!, KRCC will outfit the space with high-end A/V equipment, engineering soundboards, and more.
"Tilapia is a way better fish option for your health and there are also the environmental reasons, of course," said Coleman. "And now it's a great option for supporting our friends at KRCC through Indy Give! And a little side note: I definitely recommend these tacos topped with fresh cabbage, corn salsa, and Ahi de Peru, stuffed in a corn tortilla."
About The Blue Star Group
The Blue Star Group is the Colorado Springs headquarters for mouth-watering fine fare, and a culinary experience driven by palatable passion and intense attentiveness to detail. Etching its food and lifestyle brands as a benchmark in Southern Colorado since 1995, The Blue Star Group - owned by Joseph Coleman Jr. – operates three venues: The Blue Star, Nosh and La'au's. Next up: the Ivywild School to feature The Old School Bakery, The Lab, and Principal's Office Coffee and Libation Bar will officially sweeten the scene in February 2013 across the way from The Blue Star.