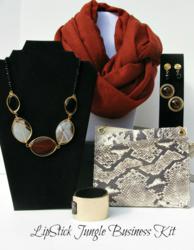 A Human Resources Director for 20 years, I knew that women had to be in business for themselves to be truly independent.
Salem, Oregon (PRWEB) November 06, 2012
Juxees and Jewel is a new boutique style handbag and fashion accessory company reinventing the home-based business for the modern woman. Through wholesale business kits, Juxees and Jewel allows women to channel their fashion sense into business, and sell through boutiques, e-commerce sites, mall kiosks, trunk shows or home parties.
Founder Linda Poteet created Juxees and Jewel as a business opportunity company to help other women achieve their entrepreneurial dreams. A Human Resources Director for 20 years, she knew that women had to be in business for themselves to be truly independent.
Poteet started designing handbags while working full-time. "It is not easy to start a business from scratch while working full-time. I decided I wanted to help other women be able to follow a dream of owning a business. I did not want it to cost women their life savings to start. I wanted to take a majority of the frustration and risk out of starting a business. I wanted to enjoy every day and for other women to do the same and Juxees and Jewel was born."
With Juxees and Jewel women will have the opportunity to purchase kits with jewelry, handbags and scarves. The kits are designed to meet women fashion style personalities. The style kits include Breakfast at Tiffany's, Modern Gatsby, Hollywood in the Hamptons and Lipstick Jungle. There is no recruiting of down-lines or waiting for commission checks and women can earn 50% on every piece. Juxees and Jewel mixes the products and adds new ones every six weeks, so, business owners have something new and fresh to offer their customers. The business kits never have the same products, so, that each business owner will have something exclusive and special to offer her customer. The business kits price start at $179.00 with a retail value of over $400.00. The goal is to help women make at least a 50% profit.
Juxees and Jewel has secured "exclusive" styles from emerging fashion accessory designers that no other retailer is permitted to carry. In addition, Juxees and Jewel is the exclusive retailer of Juxees Handbags - a sophisticated line of professional handbags and leather goods for businesswomen and travelers, which are made in the USA.
Juxees and Jewel will empower a growing force of women to become independent, fashionable entrepreneurs. View our video for more about Juxees and Jewel: http://www.youtube.com/watch?v=mr_CvBUdfXs&feature=relmfu