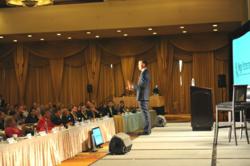 Los Angeles, CA (PRWEB) November 06, 2012
Leading business guru JT Foxx today announced a new initiative to deal with the increase in complaints about small businesses that lead to needless lawsuits.
"If small businesses in the country are going to prosper, they can't rely on government support. They'll need to create their own economy," JT Foxx said. "But that's going to become more difficult with health care reform, higher medical premiums, and now the increasing cost of lawsuits against small businesses. Many entrepreneurs are being ruined by overly litigious and unsubstantiated lawsuits."
As a successful serial entrepreneur, and philanthropist, JT Foxx explained that there are three ways to get rich in today's market.
"The first way to get wealthy comes from hard work, but that's not so sexy anymore. The second way is to win the lottery. Sadly enough, the third way is to sue your way to millions. I've been the victim of such litigious extortion attempts. Rather than work hard, people want to take down others by lying, distorting the truth, and filing lawsuits," he added.
As a result, JT Foxx will now be speaking on this topic at the many business events he attends all around the world. "I'll be discussing ways to protect yourself against the litigious contingency attorneys who are all too happy to capitalize on bitter former employees and business partners who will lie about almost anything," JT Foxx said. "In business, it's not how much money you make, but how much you keep. I want to do all I can to protect the future health of business in this country."
For more information on JT Foxx's events, visit http://www.toponesuccess.com/.
About JT Foxx
JT Foxx started investing with nothing more than a rusted out Ford pick-up truck, $974 dollars and 1 cheap suit. Now just 6 years later, he has acquired and sold over 500 properties, closed over $40 million in real estate deals.
He is a serial entrepreneur and the host of the syndicated weekend radio personality of the "J.T. Foxx Show" in the U.S. and Canada.