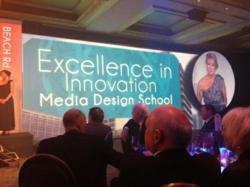 in New Zealand we are watching the film, animation, visual effects and game development sectors thrive and our graduates are in huge demand
(PRWEB) November 05, 2012
The school was recognised for delivering high-quality education for emerging digital design sectors in response to industry demand.
The annual awards, which are presented by the Auckland Chamber of Commerce, recognise business excellence across eight categories including innovation, marketing, leadership, emerging business, service delivery, workplace safety, exporting and retail. This year, twenty-four Auckland companies and four individuals were named as finalists from 111 entries.
Media Design School CEO Frances Valintine said the award was icing on the cake after a remarkable year for the school.
"We have worked closely with industry to develop four cutting-edge degrees within the last 12 months, received international accolades for our student work, welcomed faculty from the world's largest film and game development studios and watched our graduates enjoy sustained success at the top of their field," said Valintine.
"Particularly in New Zealand we are watching the film, animation, visual effects and game development sectors thrive and our graduates are in huge demand – even before they graduate. We will continue to build on our reputation for producing highly-skilled talent for these industries with even more innovative projects in the (near) future."
AWARDS & RECOGNITION IN 2012
STUDENT FILMS IN GLOBAL FESTIVALS AND AWARDS

Time for Change: Selected for nine international film festivals in Australia, United States and France. WON at San Francisco Independent Film Festival.
Das Tub: Selected for nine international film festivals including the global YouTube Film Festival. Screened in Paris, Wichita, Saint Tropez, Normandy, Los Angeles, Bondi, Lubin and Alberta.
First Contact: Selected for six international film festivals, a finalist in two of those and received an honourable mention in Boston Sci-Fi convention in USA. Was awarded Silver in Interactive Category at Best Design Awards in Auckland this month.
Rotting Hill: Selected for 16 international film festivals including New Orleans Horror Fest, Charlotte Horror Fest, Telluride Horror Fest and Blue Mountains International Film Festival.
Dr Grordbort Presents: The Deadliest Game: Awarded Gold for Interactive Design at Best Awards in Auckland this month. Selected for 18 film festivals including YouTube Film Festival selected from an initial shortlist of 50,000 film entries.
STUDENT SUCCESS
Design student Sarah Findlay won Becks Emerging Artist Competition – her label design was rolled out nationwide.
AdSchool students Owen Bryson, Anna Paine, James Burton, Jonathan Swan, Andrew Younge and Rory Dunleavy won the Absolut Vodka Challenge.
Media Design School students won both the overall student prize and the topical prize at the 2012 Newspaper of the Year Awards.
Hayley Heartbreak represented Media Design School in New York. Her artwork was projected into Times Square and simultaneously broadcast into theatres across New Zealand in October 2012.
AdSchool graduates Jake Barnes and Liz Richards took out the top award for copy at this year's International Crowbar Student Awards, making it the fourth year in a row that AdSchool graduates from Media Design School have won the top award.
SCHOOL SUCCESS
Media Design School won a Westpac Auckland Central Business Awards 2012 for Excellence in Innovation.
Frances Valintine was a finalist in the Next Magazine Woman of the Year for her contribution to education.
Media Design School took a trifecta at The Best Design Awards winning Gold, Silver and Bronze in the interactive design category.
Media Design School was a finalist in two categories at the 2012 Effie Awards for marketing effectiveness.
ABOUT MEDIA DESIGN SCHOOL
Media Design School is New Zealand's most-awarded private tertiary institution for digital and creative technologies. The Auckland-based school offers degrees and diploma qualifications in 3D computer animation and visual effects, interactive gaming, graphic design, creative advertising, and digital media. Media Design School is part of Laureate International Universities, the world's largest private university group with over 55 universities in 28 countries, including dedicated design schools in San Diego, California, and Santa Fe, New Mexico, USA; Berlin and Hamburg, Germany; and Milan, Italy. For more information, visit http://www.mediadesignschool.com