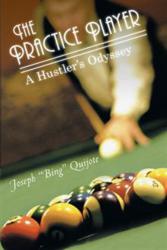 Every pool player, as well as those in their respective sport, wants to know the secret of how to achieve their best game and maintain it
(PRWEB) November 06, 2012
"Mankind is still in the dark regarding the interaction between the brain-controlled body and its mind-controlled spirit," author Joseph "Bing" Quijote says. "I wish to enlighten Mankind through the playing of pocket billiards as well as all other sports." It was this thought that inspired Quijote to pen his new fiction, "The Practice Player: A Hustler's Odyssey" (published by Abbott Press).
"The Practice Player" tells the story of two billiards players – Henry Chaney and Jason Reese, who are separated by a generation, but bound together by ambition – each fighting to master the spirit of the game, as old rivalries and new players complicate their quest.
An excerpt from "The Practice Player":
"'Go pick up a cue,' he told Henry.
Henry went up to the cue rack and started fidgeting with the cue sticks, not really knowing how to choose one.
Harry walked over to Henry. 'Now watch me carefully in every-thing I do. I'm going to teach you from the ground up, step by step. Then when you practice, I'll be standing next to you and I'll correct everything you do wrong. So let's start out by finding out if the cue stick is straight. You roll it on the table like this.'
Harry showed Henry everything he knew and the six basic fundamentals he should master. For the first month, he stayed with Henry everyday after work, drilling every bit of advice and skill he possessed into Hank's mind and body. When the month was over, he took Henry aside."
"Every pool player, as well as those in their respective sport, wants to know the secret of how to achieve their best game and maintain it," Quijote explains. "The secret is revealed in this book."
About the Author
Joseph "Bing" Quijote learned to play pool at age 15. In his 20s, he studied metaphysics under the Rosicrucians and in his 30s, learned to astral project. "My pool playing was an enigma," Quijote says. He won the state championship in the U.S. Open and made a comeback in the sport, a comeback that culminates the final match of his novel. Quijote lives in Hawaii.
Abbott Press, a division of Writer's Digest – the oldest and most respected publisher devoted to the education and advancement of writers – is an indie-publishing imprint dedicated to helping writers bring their literary vision to print. Author Solutions, Inc., a leader in indie book publishing, will fulfill publishing, sales, and marketing services for Abbott Press. For more information, or to begin publishing a book today, log on to abbottpress.com or call 866-697-5310.
###