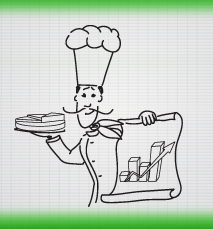 This is the only book you will need to learn how to create all kinds of charts in Excel 2007 or 2010
Sydney, New South Wales (PRWEB) November 07, 2012
Sydney author and resident, Artur (Arthur) Paskar, has published "Excel Pies and Other Recipes to Make Your Data More Digestible", a 299-page guide that shows how to create all charts available in Microsoft Excel 2007 or 2010 as well as how to create waterfall charts, wind rose diagrams and other custom charts. The author says "This is the only book you will need to learn how to create all kinds of charts in Excel 2007 or 2010."
The book shows the reader how to create all types of Excel charts and many types of custom charts. It contains 680 screenshots which show exactly what the student needs to click or select. Almost all actions, commands, settings and menu items which you need to click or work with are written in bold. The combination of the screenshots and instructions written in bold allows you to learn by "looking" through the book.
The book has a companion website, http://www.chartrecipes.com/ provides more helpful resources. The website has all the source data used in the book exercises and contains an Excel workbook with all exercises completed – a great resource if you would like to use some of the charts as templates.
For a limited time, the ebook can be borrowed for free from Amazon. Normally priced at $5.99 it can be downloaded from http://www.amazon.com/dp/B009V2Z1SO.