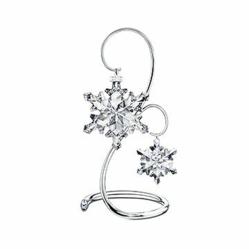 (PRWEB UK) 7 November 2012
For over twenty years, Swarovski has interpreted the snowflakes and stars and has turned inspiration into coveted ornaments. The Christmas Ornament, Annual Edition 2012 carries a little metal plaque engraved with the year of issue, making it a perfect memento of the most precious event of the year. These sparkling creations lend themselves perfectly to gift giving.
Online shoppers can benefit from the online exclusive Swarovski Christmas Set 2012, Limited Online Edition 2012. The set contains the Christmas Ornament, Annual Edition 2012, a Little Star ornament as well as an elegant ornament display which is exclusively available online.
For the first time ever, Swarovski presents the Christmas Ornament, Annual Edition as a large clear crystal sculpture. The exceptional Christmas Snowflake, Limited Edition 2012 will fill the home with sparkle and magic all year round. Members of the Swarovski Collectors Society (SCS) are eligible to purchase the SCS Christmas Ornament, Annual Edition 2012. Featuring the same shape as the Annual Ornament, this version is created in eye-catching Golden Shadow crystal, lending a poetic and festive touch to any decor.
Swarovski crystal ornaments transform the surrounding into an enchanted wonderland – treat loved ones to these precious treasures too. To find out more and view these beauties, visit the Swarovski website.
For online use only
In 1895, Daniel Swarovski, a Bohemian inventor and visionary, moved to the village of Wattens, Tyrol in Austria, with his newly-invented machine for cutting and polishing crystal jewellery stones. From this beginning that revolutionized the fashion world, Swarovski has grown to be the world's leading producer of precision-cut crystal for fashion, jewellery and more recently lighting, architecture and interiors. Today, the company, still family-owned and run by 5th generation family members, has a global reach with some 26,100 employees, a presence in over 120 countries and a turnover in 2011 of 2.22 billion Euros. Swarovski comprises two major businesses, one producing and selling loose elements to the industry and the other creating design-driven finished products. Swarovski crystals have become an essential ingredient of international design. Since 1965 the company has also catered to the fine jewellery industry with precision-cut genuine gemstones and created stones. Showing the creativity that lies at the heart of the company, Swarovski's own brand lines of accessories, jewellery and home décor items are sold through more than 2,200 retail outlets worldwide. The Swarovski Crystal Society has close to 300,000 members across the world, keen collectors of the celebrated crystal figurines. And in Wattens, Swarovski Kristallwelten, the multi-media crystal museum, was opened in 1995 as a celebration of Swarovski's universe of innovation and inspiration.