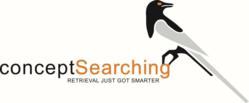 Clients can take advantage of our easy-to-use tools, being employed by many global enterprises to improve search, records management, protection of privacy data, collaboration, and social networking with pre-customized industry aligned taxonomies.
McLean, VA, US and Stevenage, UK (PRWEB) November 07, 2012
Concept Searching, a global leader in automatic semantic metadata generation, auto-classification, taxonomy management software, and developer of the Smart Content Framework™, and WAND, Inc., developer of structured multi-lingual vocabularies, have formed a strategic partnership. Under the agreement, Concept Searching is one of the founding strategic partners to meet the stringent requirements of the new WAND Within™ program.
The WAND taxonomies have been used for the last fourteen years by organizations that want to benefit from industry and business function specific Foundation Taxonomies, to accelerate taxonomy development and management. The WAND Within™ partnership program is designed specifically for industry leading vendors in the taxonomy market, who add superior technology value to provide clients with powerful solutions to manage unstructured content.
A combination of Concept Searching's advanced technology platform, WAND Foundation Taxonomies, and industry expertise will be marketed as smartStructures, vertically aligned solutions available only from Concept Searching directly or from a set of certified partners.
"WAND is pleased to welcome Concept Searching as a founding strategic partner of our WAND Within™ program. As the industry leader in developing Foundation Taxonomies, coupled with Concept Searching technologies, this joint partnership provides an industry unique and superior solution for any organization that is seeking to manage unstructured content. The advantage to our clients is a customized solution that is cost effective, rapidly deployed, and easily managed," said Mark Leher, COO of WAND, Inc. "Concept Searching's concept extraction and automatic metadata generation capabilities, used in conjunction with WAND Foundation Taxonomies, deliver an innovative and industry unique approach that drives real business value and positive outcomes to organizations of any size," he concluded.
The joint solution will combine WAND Foundation Taxonomies with Concept Searching's award winning conceptClassifier products and will be available for all versions of SharePoint, from 2007 to 2013, and for Office 365, as well as in non-SharePoint and heterogeneous environments. The solution enables organizations of any size to take advantage of the combined strength of the WAND industry specific taxonomies with Concept Searching's unique business process focused outcomes, delivered through concept extraction, automatic metadata generation, auto-classification, and taxonomy management. This results in a comprehensive content management solution strategically aligned to address shared industry specific requirements and can be further customized by the organization to solve challenges such as records management or data privacy protection.
Martin Garland, President of Concept Searching, commented on the partnership saying, "This partnership combines the power of two industry technology leaders. Clients can take advantage of our easy-to-use tools, being employed by many global enterprises to improve search, records management, protection of privacy data, collaboration, and social networking with pre-customized industry aligned taxonomies. This is the only solution available in the market that expedites taxonomy development with far greater accuracy and provides the ability to address specific industry and organizational challenges easily and cost effectively."
The WAND Taxonomy Library contains taxonomies for industry verticals, such as oil and gas, mining, financial services, banking, real estate manufacturing, insurance, food and beverage, travel, chemicals, personal care, medical, higher education, and construction as well as operational taxonomies like information technology, legal, records retention, sales and marketing, skills, and more. WAND creates new taxonomies on a regular basis to address new industry verticals and business topics.
Running natively and fully integrated with the SharePoint term store, Concept Searching's conceptClassifier for SharePoint can consistently apply conceptual metadata to content and auto-classify to the term store metadata model, solving the challenge of applying the metadata to thousands of documents and eliminating the need to depend on the end user community to correctly tag content. Highly flexible, conceptClassifier for SharePoint runs natively in SharePoint 2007, SharePoint 2010, SharePoint 2013, Office 365, and Windows Server 2008 R2 FCI. Also available in an on-premise, cloud, or hybrid environment, the technologies are being used to solve a wide range of challenges in Search, Enterprise Content Management, Records Management, Compliance, Data Privacy, Social Networking, and Litigation Support.
Follow Concept Searching: http://www.twitter.com/conceptsearch
About Concept Searching
Founded in 2002, Concept Searching provides software products that deliver conceptual metadata generation, auto-classification, and powerful taxonomy management from the desktop to the enterprise. Concept Searching, developer of the Smart Content Framework™, provides organizations with a method to mitigate risk, automate processes, manage information, protect privacy, and address compliance issues. This infrastructure framework utilizes a set of technologies that encompasses the entire portfolio of unstructured information assets, resulting in increased organizational performance and agility.
Concept Searching is the only platform independent statistical metadata generation and classification software company in the world that uses concept extraction and compound term processing to significantly improve access to unstructured information. The Concept Searching Microsoft suite of technologies runs natively in SharePoint 2007, SharePoint 2010, SharePoint 2013, FAST, Windows Server 2008 R2 FCI, Office 365, and in Microsoft Office applications.
The building blocks of Concept Searching's Smart Content Framework™ are being used by organizations from a diverse number of industries including the US Army, the US Air Force, the UK MOD, Baker Hughes, DAI, Deloitte, Logica, NASA Safety Center, OppenheimerFunds, Point B, Perkins+Will, Parsons Brinckerhoff, Burns & McDonnell, MarketResearch.com, the US Department of Health & Human Services, Transport for London, the London Fire Brigade, the National Transportation Safety Board, and Xerox.
Headquartered in the US with offices in the UK, South Africa and Canada, Concept Searching solves the problem of finding, organizing, and managing information capital far beyond search and retrieval. The technologies are being used to drive intelligent migration, enable effective records management, identify and lock down sensitive information and enhance governance. For more information about Concept Searching's solutions and technologies please visit http://www.conceptsearching.com
About WAND
Since 1983, WAND has developed its industry leading library of multi-lingual taxonomies with related tools and services to power precision search and classification applications. WAND Foundation Taxonomies are used by thousands of companies around the world to organize information assets and includes taxonomies such as Oil and Gas, Mining, Financial Services, Automotive, Medical, Higher Education, Food and Beverages, Food Science, Insurance, Real Estate, and operational taxonomies like IT, Legal, Records Retention, Skills, Sales and Marketing, and General Business. More taxonomies are created on a regular basis. The WAND WithinTM partnership program combines the leading WAND taxonomies with best in class technologies and solutions to ensure an optimal content management experience for the customer. For more information about WAND's taxonomies, please visit http://www.wandinc.com.
All product and company names herein may be trademarks of their respective owners.