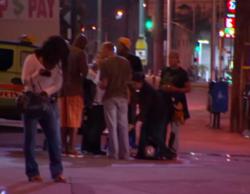 LGBT foster youth are among the most difficult to place, mostly because people are unaware of the services available to support them. I applaud these efforts to recruit and support these foster families.
Los Angeles, CA (PRWEB) November 05, 2012
According to the 2009 bi-annual homeless count conducted by the Los Angeles Homeless Services Authority (LAHSA), close to 9,500 unaccompanied homeless youth ages 24 and under live in our community throughout the year. A survey by the Hollywood Homeless Youth Partnership found that approximately 40% of homeless youth identify as LGBT and that well over half of these youth stay on the street because they feel "safer there than living in group or foster homes." Social workers across the country have long struggled to find foster and adoptive families that can provide LGBT adolescents with the support they need during the transition to young adulthood.
With support from the David Bohnett Foundation, Southern California Foster Family and Adoption Agency (SCFFAA) has developed a targeted campaign to recruit foster homes for LGBT self-identified youth, backed by multiple services foster parents can access for these at-risk adolescents.
SCFFAA partnered with RaiseAChild.US, a non-profit organization that encourages LGBT people to build their families through fostering and adoption. Together, they have built a consortium of agencies that provide resources to foster youth.
The first step was a survey of prospective foster parents. It was learned that the major concerns regarding fostering LGBT youth focused on three areas: finances, health care and education. They consulted with the agencies that provide those services to create a specialized resource and referral system.
Linkages have been developed with Children's Hospital Los Angeles (CHLA), which offers individual and family therapy through its Project Heal Program and through its Division of Adolescent Medicine. In addition to managing the foster care aspect of each placement, SCFFAA plans to develop regular group support and socializing events to the families, to develop a community of support and to help foster parents to fully access resources for the children in their care.
Other resources for these families include LifeWorks, an LGBT youth mentoring program at the L.A. Gay & Lesbian Center, L.A. County Department of Children and Family Services (DCFS) Youth Development Services, Unite L.A., which is an affiliate of the L.A. Chamber of Commerce, and the Guardian Scholars Program, which has coordinators at colleges, universities and vocational schools across the state.
SCFFAA President & CEO Sylvia Fogelman underscores the need for multiple services for these families. "All children need stability, safety and love. LGBT self-identified youth need some additional advocacy and specialized attention. With the right support, foster parents can make a critical difference in these young people's lives. Our goal is to surround these foster families with that additional support and guidance from day one."
Rich Valenza, Founder & President of RaiseAChild.US explains the significant tuition assistance available to foster youth. "They qualify for Cal Grants A, B and C that can fund an education at public and many private universities and trade/vocation schools. They can study tuition-free at all community colleges." He continues, "There are also many scholarships and work-study opportunities specifically for foster youth. The Guardian Scholars Program is a tremendous resource to help foster youth develop a path to their future as independent young adults."
Under the Foster Care Independence Act of 1999, California's Independent Living Program, coordinated through DCFS, provides training, services and programs to assist current and former foster youth achieve self-sufficiency.
L.A. County Supervisor Zev Yaroslavsky endorses the work of the partnership. He says, "These agencies are finding innovative ways to engage our community to address the needs of highly vulnerable children. LGBT foster youth are among the most difficult to place, mostly because people are unaware of the services available to support them. I applaud these efforts to recruit and support these foster families."
To become involved in the recruitment drive, community agencies, employers and potential foster parents should visit http://www.RaiseAChild.US