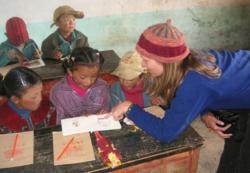 Boulder, Colorado (PRWEB) November 06, 2012
Conscious Journeys (CJ), a program dedicated to bringing groups of volunteers to Tibet for service projects and tours, recently launched a new website. The site features information for potential volunteers, guidelines for travel in Tibet and planning tips. It also features articles, videos and photos documenting past trips and their impact on local Tibetan communities. The site highlights the company's main tourism objectives: sustainable and responsible travel, support for local businesses, cultural interaction and providing services to local communities.
The unique focus of CJ sets it apart from regular travel agencies. By using local Tibetan guides, drivers, cooks and support staff, travelers not only support the local economy, they also gain authentic knowledge of Tibetan culture and lifestyle. Homestays and service projects create a mutually beneficial bond between the locals and the volunteers that regular tourism can't match.
Past volun-tourism trips include medical and dental missions, construction projects and site clean-up projects. Volunteer groups come from all over the world; some are professional or student groups and some are just interested individuals looking to sign on and make a difference. The proceeds from CJ trips go to fund Tibetan Village Project.
The new Conscious Journeys website offers an interactive way for potential volunteers and donors to learn more about volunteering in Tibet and working on small-scale community development projects. It is also a forum for past volunteers to share their stories and photos and keep track of the communities they've served and the friends they've made.
Conscious Journeys is the volun-tourism program of the NGO Tibetan Village Project. Tours focus on providing services to local communities, practicing sustainable travel, supporting local businesses and connecting in a positive and meaningful way with Tibetan communities across the plateau.