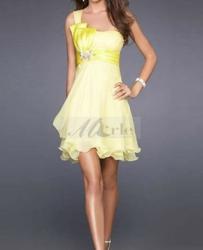 (PRWEB) November 05, 2012
On Nov. 5, 2012, Merle Dress, a leading supplier of prom dresses and wedding dresses, announced its Merle Formal Dresses 2013 collection after several months of preparations. Now, new arrivals of formal dresses 2013 collection have been available in the market.
The formal dresses 2013 collection can be sorted into the following categories: long formal dresses, short formal dresses, formal dance dresses, semi-formal dresses, sexy formal dresses, and, etc. All dresses are free shipping over $200.
On the website merledress.com, customers can find the new collection easily. Moreover, they can also get a discount of up to 42% off. Merle Dress promises to spare no energy to offer quality products for customers as before.
According to Donnie Terry, CEO of Merle Dress, they have received many positive comments from the USA market since its launch of a cheap formal dress collection for under $150 last month, which has encouraged them greatly.
Merle Dress Fashion Style has gained a great reputation in the last few years, and customers are always ranked No.1 there. Tracy, a customer from London, said, "I have placed quite some orders at Merle Dress, and what impresses me most is that I can constantly find the latest style there. Furthermore, I always share Merle on Pinterest."
Donnie Terry, said, "The online market is the most important market for our company. All competitive products should have great market potential there. We are happy to see faster growth of our online business. We hope to acknowledge our customers through better products and services."
About Merle Dress
MerleDress.com is the leading supplier of wedding dresses, prom dresses, special-occasion dresses, and wedding dress accessories from China. Merle Dress started with a basic idea of helping women dress better and is now famous for its outstanding quality in fabric, materials, and fit without the inconvenience and costs of traditional bridal boutiques and retailers.