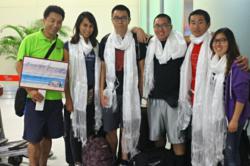 Boulder, Colorado (PRWEB) November 20, 2012
Conscious Journeys (CJ), a volun-tourism organization working in rural Tibetan areas, is organizing medical and dental missions to areas in Kham, western Sichuan Province. CJ offers trip details and contact information on their website.
The medical and dental missions to Tibet deliver crucial medical supplies, assess the fundamental medical and dental needs of villages, diagnose and treat patients, and organize basic healthcare education for local communities on the Tibetan plateau.
These journeys provide a unique balance of direct service and cultural immersion along with hands-on medical work. There are numerous opportunities to interact with villagers, visit monasteries and historical sites, embark on stunning hikes or soak in the local hot springs.
Depending on the type of medical or dental service the chosen community needs, CJ facilitates groups of people with similar interests and skill sets such as doctors, dentists, healthcare workers, and nurses. Along with healthcare professionals, CJ welcomes kindness practitioners, adventurers, and enthusiastic volun-tourists to assist specialists. Given the rugged terrain and high altitude, participants must be physically fit, able to handle altitudes up to 12,000 ft, and afford to cover their own expenses.
The service program primarily operates in remote villages in Kham and Amdo, regions currently known as Sichuan, Qinghai and Yunnan Provinces. Depending on the location of the selected community, coordination and logistics, cost, and participant availability, the programs generally last between 12 and 21 days, and can optimally run from May to October.
Conscious Journeys is the volun-tourism program of the NGO Tibetan Village Project. Tours focus on providing services to local communities, practicing sustainable travel, supporting local businesses and connecting in a positive and meaningful way with Tibetan communities across the plateau.