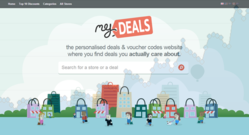 It's a brilliant milestone for us to hit but the whole Mindwork Labs team know that we can't become complacent, we still have a very, very long way to go
(PRWEB) November 05, 2012
The site receives more than 150,000 monthly unique visitors, with this number expected to double again in November. The site may be in its infancy and competing in an established market, but these figures show that technical execution can be the gateway into a crowded sector. The company will roll out unique features in December or early January – these features are expected to catapult the sites popularity to even greater heights.
As a UK based company, 75% of traffic to the site comes from UK consumers. However, MyDeals.com also operates in the US, with plans to expand out to Canada and Australia in the pipeline. The American market is, of course, much bigger in terms of size but it also has huge potential for social engagement and activity. Gaining a market share in this area is essential in order to achieve rapid growth.
The company already gained attention earlier this year after the acquisition of their high-value domain name.
Tom Packer the CEO and Founder is pleased with this positive start. He said, "It's a brilliant milestone for us to hit but the whole Mindwork Labs team know that we can't become complacent, we still have a very, very long way to go. Going forward, we have lots of exciting innovations in the pipeline that will differentiate us from the rest of the market. We're surprised that the site in its current form has done so well; we want to be the best and I have no doubt that when we do our full launch, we can be!"
Global expansion, improved tech and more deals can be expected once the full site is launched. This exciting prospect has already garnered interest from other possible investors and venture capital companies.
It is rare for any start up to get this level of traction while still improving and testing the most basic version of their product - in such a competitive market, it's unheard of.
2013 looks set to be an exciting year for the Mindwork Labs team and their MyDeals website, and they look set to become a major player in the deals space.