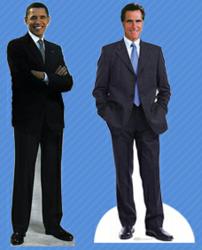 South Whitley, Indiana (PRWEB) November 05, 2012
Barack Obama is the "party" winner when it comes to using the word outside of its traditional Democrat or Republican political meaning. Shindigz, a leading, global party supplies company, opened polls four weeks ago, to ask voters, "Which presidential candidate standee would you vote to have standing at the doorway of your next party?"
Thousands of votes have been registered. With two days left for voting, the Barack Obama life-sized standee is holding a slim lead with 53% of the vote to 47% for the life-sized Mitt Romney standee. Voting continues through November 6th.
Keith Bansemer, Director of Internet Marketing for Shindigz, observes, "We're not sure if the result of our party poll will have any correlation to this Tuesday's election voting, but it has been interesting to see how both standee presidents have exchanged the lead a few times in our poll over the past month."
Shindigz sells a line of election party supplies for political rallies and celebration parties. Best-sellers this month have been large cardboard cutouts of Barack Obama and Mitt Romney.
About Shindigz
Since 1926, Shindigz, an American owned company located in South Whitley, Indiana, has provided party products for over 23 million special party events. It ships products across the United States and around the world to 59 countries. Shindigz online party supply store provides customers with complete party solutions through the sale of over 34,000 party items and is located at http://www.shindigz.com.