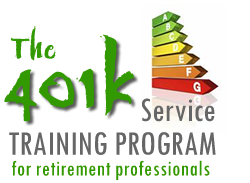 "Speakers at this November program will be sharing proven strategies to help retirement professionals run a more highly successful and compliant practice."
Pittsburgh, PA (PRWEB) November 06, 2012
Financial Service Standards is pleased to announce that Ryan Ande, author of "I Want to Be Sold", and Richard Glass, President of Investment Horizons will be guest speakers at the November 29-30th 401k Service Training Program™ for retirement plan professionals, held at the Hyatt Regency Pittsburgh International Airport Hotel in Pittsburgh. The 2-day live program provides sales and service training following a curriculum based on ERISA regulations and industry best practices, and culminates in the Professional Plan Consultant™ (PPC™) designation.
The 401k Service Training Program provides accredited training, professional certification, and business-building tools for retirement sales and service professionals, including consultants, investment advisors, benefits administrators, and wholesalers. "With the addition of our guest speakers, attendees receive not only valuable fiduciary training, but also sales and service concepts that can help them compete more effectively in the retirement plan space," said Sharon Pivirotto, Financial Service Standard's Founder and CEO.
"Ryan Ande will be sharing tested strategies based on his highly acclaimed book "I Want to Be Sold, the Sales Experience From the Buyer's Perspective", and Richard Glass will be discussing valuable ways advisers can help plan sponsors assess participant success factors to achieve a more successful plan," explained Sharon Pivirotto. "We're excited to have them join us and offer tremendous value to the professionals that attend the program."
The 401k Service Training Program is taught by Don Settina, PPC™, CFP®, AIFA® and Sharon Pivirotto, PPC™, AIFA®. Both are financial industry veterans with more than 40 years of combined experience.
The 401k Service Training Program is offered through Financial Service Standards and accredited through Robert Morris University, both in Pittsburgh. Financial professionals with at least three years of financial industry experience are eligible to enroll.
The two-day, 16-hour program will be held from 9am-5pm both days at the Hyatt Regency Pittsburgh International Airport Hotel. A special promotion is being offered for individuals that attend the upcoming program. For details and to enroll, visit http://www.financialservicestandards.com/401kservicetraining.htm or call Sharon Pivirotto at 724-582-4347.