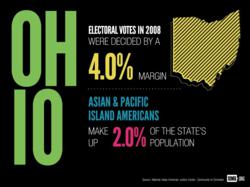 It is therefore important that all Asian Americans and Pacific Islanders (AAPIs) understand their rights and responsibilities as voters
Cleveland, OH (PRWEB) November 06, 2012
Voting in the 2012 general election this Tuesday, November 6 may be a complicated process for Asian and Pacific Islander Ohioans who speak English as a second language. It is therefore important that all Asian Americans and Pacific Islanders (AAPIs) understand their rights and responsibilities as voters, including what forms of identification to bring to the polls, their right to language assistance, and how to report any problems they encounter at the polls.
To help AAPIs vote, the Asian American Justice Center and APIAVote will be running a Asian-language Election Protection hotline, 1-888-API-VOTE (274-8683), on Election Day and the day before Election Day for all voters nationwide. The hotline will be live from 9:00am - 7:00pm EST on Monday, November 5, and from 5:30am - 7:30pm EST on Tuesday, November 6. The hotline will provide assistance in Cantonese, Korean, Mandarin, Thai, and Vietnamese. AAPI voters are strongly encouraged to call the hotline if any individual, including an election official, questions or hinders their right to vote.
Voter ID
Student ID is not accepted as voter ID in the State of Ohio. Ohio accepts the following documents as voter ID. If any one of these documents is refused at the polls, report the incident to 1-888-API-VOTE:

A driver's license or state ID card with name and photograph issued by the Ohio Bureau of Motor Vehicles. The card must be current (not expired), but may list a previous address.
A U.S. Military ID with name and photo; an address is not required.
A government ID with name, current address, and photograph.
An original or copy of one of the following current documents, bearing name and current address: utility bill (including cell phone bill), bank statement, pay stub, government check, or other government document. The document must be dated within one year of Election Day (November 6, 2012) to be accepted as current.
Any voter may use the last 4 digits of his or her Social Security number to vote a provisional ballot.
Language Assistance
According to Section 208 of the Voting Rights Act, any voter who has difficulty with English may bring any individual of his or her choice into the voting booth to provide assistance, so long as that individual is not the voter's employer or union representative. Not all poll workers may know about this right and may wrongly turn the voter away, or refuse entrance to the voter's chosen assistant. Please report these incidents to 1-888-API-VOTE (274-8683).
For more information, including how to find your polling locationand a comprehensive Ohio Asian& Pacific Islander American Voter Guide in Chinese, English, Japanese, Karen, Korean, Mon, Punjabi, and Vietnamese, visit ASIA's voter resource page at http://www.tinyurl.com/asiagotv.
ASIA's 2012 Ohio AAPI Voter Registration & Education Project is made possible by support from APIAVote, a national nonpartisan organization that works mobilize Asian Americans and Pacific Islanders (AAPIs) in electoral and civic participation.
###
Asian Services In Action
Founded in 1995, Asian Services In Action's mission is to is to empower and advocate for Asian Americans/Pacific Islanders (AAPIs); and to provide AAPIs access to quality, culturally, and linguistically appropriate information and services. Visit http://www.asiainc-ohio.org to learn more. Follow ASIA on Facebook and Twitter!