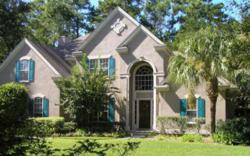 The agents at Chaplin Williams make the home buying process easy and understandable...I highly recommend them.
AMELIA ISLAND, FL (PRWEB) November 10, 2012
The appeal of tradition continues to exert its pull on the hearts and minds of homebuyers, and in few places is that sentiment more strongly expressed than in Florida's Amelia Island real estate marketplace. Case in point: 96054 Marsh Lakes Drive. Only minutes away from the historic downtown of Fernandina Beach, a single-family home of over 3000 square feet incorporates the charm and graciousness of old-time coastal lifestyles with the best in modern design, technology and innovation.
From the street, the broad expanse of this home promises comfort and spaciousness. Inside, an intimate living room draws guests and family closer, while the formal dining room is punctuated by a fireplace and built-in shelves. The kitchen features white-on-white appliances, granite counters, and open access to the dining room. A music room with grassy-textured wallpaper beckons the artist, but could serve as office, den, or library quarters just as easily. Floor-to-ceiling windows bring the marsh view indoors.
Upstairs, the master bedroom leads to a dual-vanity bath with glass-framed shower and tub. There are three additional bedrooms, with two full baths and one half. Emphasizing versatility as well as ties to the past, this home features an open outdoor deck and a fully screened sleeping porch. Citrus trees dot the generous lot, and a community clubhouse, tennis courts and swimming pool complete the Marsh Lakes picture.
Some of this home's most valuable features aren't on the surface. For example, a home warranty is included, providing peace of mind to buyers not eager to spend time on maintenance. A private well on the premises serves to irrigate the lush plantings and fruit trees. A soft water system protects washables from salts and minerals, while an invisible fence keeps pets at home and intruders far away. Perhaps most useful from an economical point of view, there is a dual HVAC system that insures unused parts of the home won't be heated or cooled. Ceiling fans add to the ambience, as well as to overall comfort.
Because this home is represented by Prudential Chaplin Williams, knowledgeable buyers understand they will be dealing with honest, well-regarded professionals who know this market through years of experience. Whether the buyers are a family looking for long-term full time living or investors seeking a respectable return, they will be treated with fairness and respect by these acknowledged leaders in Amelia Island and Fernandina Beach real estate.
About Chaplin Williams
Prudential Chaplin Williams Realty is a full-service real estate brokerage serving all of North East Florida and headquartered on Amelia Island. Chaplin Williams Rentals is a full-service professional property management company also located on Amelia Island, Florida. Both companies were established by owners, Dee Chaplin and Hugh Williams. For more information, visit Prudential Chaplin Williams Realty online at http://www.chaplinwilliams.com or call 904-261-9311. Call Chaplin Williams Rentals at 904-261-0604 or visit http://www.chaplinwilliamsrentals.com