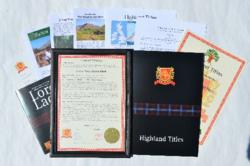 purchase Scottish land....simply by playing the game.
(PRWEB) November 08, 2012
A spokesperson for the company said, "The launch of the Highland Titles Facebook Game is a natural progression for us. We have a wonderful, vibrant community on Facebook already, with close to 100,000 fans and growing. The game will allow our fans to manage the resources of their own virtual estate, earning more and more REAL land as they go along."
Resource management is already a hugely popular gaming concept on Facebook, with the likes of Farmville attracting 17 million monthly players. The unique selling point of the Highland Titles game, however, is the crossover between the real world and the virtual world.
Once a certain level of spending has been completed, the player will be directed to the Highland Titles website where the money the player has spent in the game can be used to buy a plot of land. The desired recipient will then receive a personalised Highland Titles gift pack complete with a certificate displaying their own legitimate Scottish Title.
The aim of the game is to successfully manage the resources of the estate. It's easy to build and maintain cottages to provide a rental income, and then use that income to invest in more buildings that produce even more resources. It doesn't take long to feel like a wealthy Laird. There are farms, mills, bakeries, taverns and much more to choose from, and as you progress throughout the ages you will see the estate change before your eyes.
Highland Titles is a well-established company that has been trading for over eight years. The company sells plots of land in Scotland from their website http://www.highlandtitles.com with the unique selling point of a Scots title. Scottish landowners have traditionally been afforded the courtesy title of "Laird". "Laird", being a Scottish word, translates into English as "Lord", and the female equivalent is "Lady".
The spokesperson added, "We hope that the game inspires our growing community and encourages them to interact with each other. The social aspect of our company is very important. Indeed, in 2013 we hope to stage the first ever Highland Gathering for our Lairds, Lords and Ladies in Glencoe. The more people that hear about Highland Titles, the more we can further our cause which is to conserve land, plant trees and provide a habitat for wildlife."
One of the company's proudest achievements is the planting of Diamond Jubilee Wood, an area of sixty acres at Keil Hill in Argyllshire that will contain approximately 30,000 new trees.
Plots of land are available from £29.99 to £299.99, and range in size from 1 square foot to 1000 square foot.
The gift is hugely popular in the UK, United States, Canada and Australia where there are millions of people with Scottish ancestry. Why not make someone you know a Laird, Lord or Lady this Christmas?