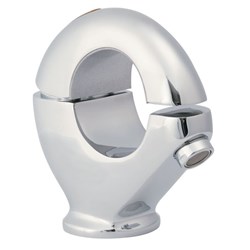 The company have now stocked new items within their extensive tap range.
(PRWEB UK) 5 November 2012
The bathroom market is always increasing in size with companies releasing more products and items with new designs and features. Finding the perfect product within the bathroom department can become a difficult task when needing to find the appropriate selection. This has been resolved by the team at Bella Bathrooms who help provide an easy to use website with a simplistic design allowing consumers to find exactly what they want at a cheap price. The company have now stocked new items within their extensive tap range to help home owners find exactly the right item.
The Home of Ultra Quest range is one of the latest additions at Bella Bathrooms and the new items feature a stylish lever design allowing an improve ease of use allowing all consumers to use effectively and easily. The units of taps are compact in size and fitting creating a fresh contemporary look to add a modern feel in bathroom suite. The Hola range of Ultra Taps is another new addition and provides buyers with an original look to their suite with the distinctive design creating a bold statement. Taps are brilliant way to enhance the look of a basin and purchasing items of the highest quality will result in usage for a long period of time.
Taps at Bella Bathrooms the company sell are made by some of the leading bathroom manufacturers in the UK such as Hudson Reed and Bristan, all backed up with a company guarantee. A large proportion of the company taps are produced from the finest of chrome to limit the probability of damage. Chrome taps are brilliant to clean for their shiny finish therefore appearance will always create a spotless effect.
To partner the range of taps the company stock, Bella Bathrooms also sell other products that are highly appealing to home owners. They stock modern and classic designed Vanity Units to compliment any bathroom design whilst provide great appearance. As everyone has their own individual taste, the company understand the wide range people are interested in; therefore hundred of taps are available to help find the exact result.
Other products the company sell such as vanity units and basins are great way to help compliment other key features in the bathroom market. Vanity Units available come in a wide range of designs, sizes and finishes all useful for when needing to install the right choice for a specific room. The units are a brilliant way for combining two main functions in one, providing a wash function as well as providing space for storage and other useful areas.
About Bella Bathrooms:
Bella Bathrooms is one of the finest UK online bathroom retailers based in the North-East of England and offer continuous great deals of bathroom refurbishments, shower, towel rail and radiator updates, stylish bathroom furniture and various other key elements at prices that are guaranteed to be unsurpassable. The latest updates continuously made have further improved the overall quality and they have set a high standard for things to come in the future. The company also own a number of other e-commerce sites with their latest addition being ibathroomsuites offering most bathroom suites with a next day delivery service.
Bella Bathrooms
Available to contact from 8:30 – 4:30