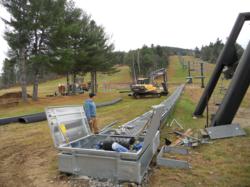 Beginner area more than doubled at Shawnee Peak
Bridgton, ME (PRWEB) November 07, 2012
The Magic Carpet at Shawnee Peak just grew by 60-feet. The extra footage will allow those learning to ski or snowboard, to travel higher-up the hill, giving them the opportunity to make more turns or traverse to a less crowded area.
In addition to extending the Magic Carpet, the mountain has also re-graded the "Lil-Pine" slope, to allow for a more pleasurable and expanded learning area. All of the improvements are being made just in time for the celebration of their 75th anniversary.
"Extending the Magic Carpet in conjunction with the relocation of our Sugar House has more than doubled the area dedicated to beginners," said Ed Rock, General Manager of Shawnee Peak. "It's the perfect place to get comfortable and really practice skiing or snowboarding."
Shawnee Peak is a privately-owned, family ski resort in Maine. Celebrating it's 75th year of operation, the mountain boasts 98% snowmaking, 1300 feet of vertical drop, 239 ski-able acres, 40 daytime trails and 19 lit trails for night, as well as two terrain parks.
The mountain is family-driven, affordable, and provides skiing and riding for all levels and abilities. To learn more about the mountain, special offers and our 75th Anniversary, visit http://www.shawneepeak.com.