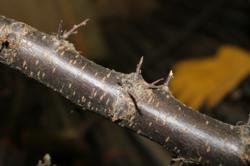 Blackthorn Walking Sticks have arrived at Walking-Canes.Net
Lady Lake, Florida (PRWEB) November 06, 2012
Walking-Canes.Net has received a new shipment of the most requested walking stick in the world. The Blackthorn Walking Stick has arrived from England. These sticks are extremely popular and the supply never meets the demand. Every collector wants one of these sticks in their collection. The supply is limited and once sold out are gone until the next growing season.
The Blackthorn Shrub has been grown in England and Ireland for many years. These bushes produce the famous blackthorns. There are never two sticks alike. Each stick has been cut and cured to form the shaft of the stick. The blackthorn briar before it has been reduced and polished off the shaft is actually very sharp and contains a toxin. When the blackthorn has dried and cured the craftsman will wear special gloves for protection of the chance of sticking themselves with the briar. If the craftsman does get the briar in the hand it will swell up like a melon for a day or so. 99.9% of all blackthorn canes have been reduced and polished so as not to cause harm to anyone using them. Pre-orders are available on the blackthorn cane that contains the original briars please contact us and we will place your name on the wait list for the next season.
Blackthorn Walking Canes come with a variety of handles. The most popular handle for these canes is the derby handle. However, walking-canes.net also has the grip handle or the cross head stick in stock. The derby handle style comes in a men's walking cane or a ladies walking cane.
If you want to order one of these canes please do so before the holiday arrives. The supply is limited and will be depleted before the shopping season. Call toll free customer service at 1-888-928-774 to place your order or to inquire about which walking cane is best for you.