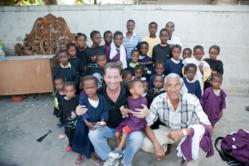 We are on a simple mission to feed people and save families.
Sarasota, FL (PRWEB) November 06, 2012
Global Village Champions Foundation, a leader in the free distribution of food, medical and educational supplies in poor and disaster-damaged communities throughout the world, has won a 2012 "Top-Rated Nonprofit" award from the global GreatNonprofits organization.
The annual award recognizes outstanding philanthropy and leadership in an enormous not-for-profit community – GreatNonprofits.com monitors more than 1.2 million charities on its website, the largest database ever assembled of first-person stories about and reviews of nonprofit entities.
"On behalf of the entire Global Village Champions organization, and most especially our first Champion ambassador, Muhammad Ali, we are all enormously gratified by this recognition," said founder and chairman Yank Barry.
"We are on a simple mission to feed people and save families," Barry said, "and to be recognized by the acknowledged leader in rating non-profit organizations in the United States is a humbling tribute to the hard work we do day after day."
GreatNonprofits, founded in 2007, is itself a non-profit and aggregates reviews of nonprofits ranging in size from small grassroots groups at the local level up to the largest regional, national and international organizations. It is supported by some of America's most respected foundations, and has been widely covered by domestic and international media.
Global Village Champions Foundation was founded as the philanthropic arm of VitaPro, Mr. Barry's multinational distributor of soy-based meat replacement products. With his Global Village Champions – most notably, his close friend and three-time world heavyweight boxing title-holder Muhammad Ali – he has traveled to virtually every corner of the world to deliver 810 million free meals to the most needy and desperate.
The Foundation's goal is to deliver a total of 1 Billion free meals by the end of 2013.