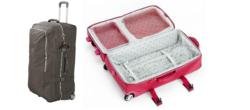 The structure of the bag is a foldable
Kent (PRWEB UK) 6 November 2012
Luggage Superstore has on its online store the Kipling Camoso, a bag that comes with a name of durability and fashion.The Camoso has been one of the most sold Kipling bags on Luggage Superstore's web site. The Kipling Camoso is lightweight and works as an upright case with 2 wheels and a telescopic handle to easily pull along.
The suitcase is designed for women and is manufactured with a large pocket on the outside and two more spacious zipped pockets on the inside but are placed in a way to make organising items quite easy and hassle free to retrieve from the bag. The price of the bag on Luggage Superstore's site is a true bargain to save on the pounds. The fabric has a nylon lining bringing a protection for dryness for any item tucked away in the case. The structure of the bag is a foldable and compact frame that allows the case to be reduced to a small size for easy storage
Trina Chee-a-kwai, Marketing Executive at Luggage Superstore, comments: - "The Kipling bags are one like no other designed for the moving fashion of women. Women have grown to love the way the bags are designed for easy access to personal items and of course that the bags can be identified with the well loved monkey creature attached to each Kipling bag."
The bags are fun, practical and colourful. It makes a statement of style and certainly turns head whenever it goes on a trip with its owners. Kipling is a distinctive and internationally well known brand.
Luggage Superstore's established site is in West Kingsdown, Kent. Their aim is providing competitive prices of the highest quality luggage and top calibre Customer Service for online luggage shopping.
Trina Chee-a-kwai
Luggage Superstore
01474854666
Email Information