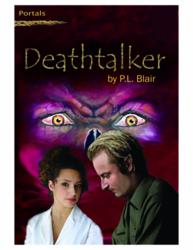 It's the first time I've ever tried crawling inside the head of one of my villains - and this one, the Deathtalker ... His head wasn't a really nice place to be.
Sheridan, WY (PRWEB) November 07, 2012
If Halloween is your favorite holiday, if you can't get enough of things that go bump in the night, then Pam See suggests you check out the new ebook release of Deathtalker – book 3 in award-winning author P.L. Blair's supernatural suspense "Portals" series.
"Pat (Blair) calls this her 'psychic vampire' story," says See, publisher and CEO of Sheridan, Wyo.-based Studio See Publishing LLC. "And it is. In Deathtalker, Blair's protagonists – Corpus Christi, Texas, police detectives Kat Morales and her elven partner Tevis – face a serial killer like none they've seen before – a paranormal being who coerces his victims into killing themselves so he can absorb their life force while they're dying."
"It was a little harder to write than my first two books," Blair says, "because it's a little darker. It's the first time I've ever tried crawling inside the head of one of my villains – and this one, the Deathtalker … His head wasn't a really nice place to be."
As in Blair's previous two books – Shadow Path and Stormcaller – the setting of Deathtalker is Corpus Christi, where Kat Morales, Tevis McLeod and their allies contend with criminals who wield magic to commit their crimes.
All the "Portals" books, See adds, are based on Blair's premise that the creatures our of mythology and folklore actually exist – on a world parallel to our own, separated by gateways, the "Portals" that give the series its name.
In Blair's mythos, the portals between the worlds have been closed for millenia but have recently opened, and all the creatures of this parallel world are now returning to the world of humans, bringing their magic with them.
"I bring these creatures to our modern day," Blair says, "and I turn them loose." The Deathtalker," she adds, is based on one of the lesser-known beings from Irish legend – the lovetalker.
"The lovetalker was always portrayed as a handsome young man," she says. "He would wander from village to village, seducing young women, getting them to fall in love with him. And such was his power that when he'd leave, the girl who'd been the focus of his attentions would – as the legends phrased it – 'pine away and die' because he'd left her.
"One day," Blair continues, "I got to thinking … The lovetalker of legend was a kind of unintentional serial killer. But what if one of these creatures set out deliberately to kill his victims. What if he was a very intentional serial killer? I saw this character as a kind of psychic vampire, drinking – feeding – not on the blood of his victims but on the life force itself as it ebbed from their dying bodies."
Blair says Deathtalker was originally to have been the fourth book in her series. "I had the idea for the book," she explains, "and the name – Deathtalker – came to me immediately. But I was working on another book at the time. So I wrote down the name, Deathtalker, and the ideas, and I set them aside to deal with when the then-third book was finished."
It didn't work out that way, she adds. "I'd sit down to work on my current project, and Deathtalker would intrude. The character was just insistent! Whole scenes would play themselves out in my mind. I couldn't concentrate on anything except Deathtalker. It just took over my life!"
Blair finally relented, set the then-in-progress manuscript aside and started work on her "serial-killer-psychic-vampire story." Despite her problems with getting inside the head of a killer, the work went fairly quickly, she says. "I finished it in, I seem to recall, six or seven months."
"I enjoy Pat's books," See adds, "because she always gives a little twist to these creatures she writes about. Like the pixies she introduced in Shadow Path, or the Aztec storm god Tlaloc in her second book, she adds her own unique ideas regarding what these creatures really are. Anyone who thinks they know about these mythological or legendary beings will find a few surprises in Pat's books."
Deathtalker is available on Kindle and Nook.