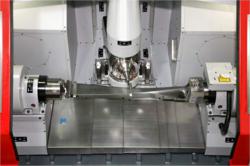 "This event will bring leaders in 5 axis milling technology from Germany to North America to present cutting edge engineered solutions to the turbo manufacturing industry." said Lucien Marini, president of INIRAM Precision.
Peabody, Massachusetts (PRWEB) November 08, 2012
Turbo Milling Process Chain will include three turbo machining technical workshops as follows:

Workshop 1: Single Blade Milling Process — This workshop will include machining an Inconel 603 blade for the steam industry and a titanium fan blade for the aviation industry on the Hamuel HTSM1000 machining center.
Workshop 2: Innovative Technology for Fir Tree Milling — This workshop will present trochoidal milling technology as an alternative to broaching. Trochoidal milling of a complex fan disk will be performed on the Hermle C60 Machining center utilizing patented technology from IRUBA, a German provider of engineered solutions.
Workshop 3: Optimizing the Blisk Machining Process — Blisk machining will be performed on the Hermle C60 to machine a workpiece with a diameter of 750mm, a height of 220mm and a blade length of 140mm.
Manufacturers from the entire turbo machinery process chain will be represented including machining centers, tooling, work-holding and software. 5 Axis machining experts will be available to discuss 5 axis machining challenges and applications with event attendees.
Participating manufacturers from Germany include:

Hermle Machine Company — Manufacturer of 5 axis and mill-turn machining centers
Hamuel Reichenbacher — Manufacturer of turn milling centers for turbine blades
OPEN MIND Technologies — Developers of hyperMILL 5 axis software
Coolclean Technologies — Provider of precision cleaning, machine coolant, and CO2 extraction solutions utilizing recycled CO2.
IRUBA Innovations — a provider of turbo tooling and engineered solutions for aviation and energy applications.
INIRAM Precision is an importer and distributor of 5 axis milling machine tools and support products for Northeast America. Based in Peabody, Massachusetts, INIRAM has a 5 axis technology center in house with several machine tools available for demonstrations. For more information, call 978-854-3037 or visit the company's website at http://www.iniram.com.