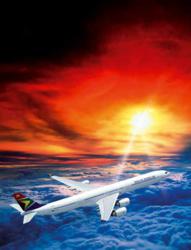 Our annual on board wine competition gives South African winemakers the opportunity to have their wines profiled globally to SAA customers' discerning palates. - Tlali Tlali
Cape Town, South Africa (PRWEB) November 05, 2012
South African Airways (SAA) today announced the winners of its competition for wines to be served on board its aircraft in 2013.
The winning wines will be served on all SAA domestic, regional and international flights and in the airline's business class lounges. South Africa's top wine producers submitted a total of 1030 local whites, reds, and dessert and sparkling wines to an international judging panel.
"South African wines are consistently rated amongst the best in the world, and as South Africa's international flag carrier, we are very proud to serve some of the best products our vintners have to offer," said Tlali Tlali, SAA's Group Corporate Affairs Executive. "Our annual on board wine competition gives South African winemakers the opportunity to have their wines profiled globally to SAA customers' discerning palates.
A distinguished panel of 12 judges tasted the submitted wines in Paarl earlier this year. Awards were presented to the winning wines last night in Somerset West.
SAA's 2013 Trophy Wines are:
White Wine: Stellenrust Chenin Blanc 2012
Red Wine: Cederberg Cabernet Sauvignon 2009
Methode Cap Classic: Anura Brut Chardonnay/Pinot Noir 2009
Port: KWV Tawny Port N/V
Two special awards for best vineyards were also announced:
SAA CEO's Award for best performance by a single vineyard: Anura Vineyards (Pty) Ltd
SAA Chairperson's Award for largest wine supplier to SAA: Anura Vineyards (Pty) Ltd
SAA has traditionally supported the South African wine industry, providing an opportunity to showcase the best wines to the world. The annual selection process for wines to be served on SAA flights gives local producers valuable feedback from an expert panel on the quality of their produce.
"Our passengers rightly expect fantastic wines as part of our outstanding service package," said Tlali. "The highly experienced panel of judges help us ensure that SAA procures the best and most suitable wines for inflight service South African wineries have to offer."
Further Information on the Judging Panel
A panel of internationally and locally recognised wine experts judged the wines, including:

Bongi Sodladla - SAA's Sommelier and Global Food and Beverage Manager;
Yegas Naidoo - SAA Voyager Lifetime Platinum member;
Ntsiki Biyela - Winemaker at Stellekaya Wines;
Sandra Lotz - former CEO of Paarl Vintners;
Andrea Freeborough - Cellarmaster at Die Bergkelder;
Carmen Steven - Winemaker at Amani Vineyards;
Cathy Marston - UK wine writer;
Francis Bayly - Chairman of the SA National Wine Show Association;
Tariro Masayiti - Red wine maker at KWV;
Annegret Gartner - Managing Director of Reichsgraf von Kesselstatt wine estate, Germany;
Miguel Chan - Group Sommelier for Southern Sun hotels; and
Alan Wong - advisor to Tuscan wine producer Ruffino, Schloss Vollrads in the Rheingau, and Ridge Vineyards in Northern California.
For more information contact:
SAA Group Corporate Affairs
Dileseng Koetle
Head: Communication
Tel: +27 11 978 2298
Mobile: +27 83 400 0041
Email:DilesengKoetle(at)flysaa(dot)com
Kabelo Ledwaba
Communication Manager (External)
Tel: +27 11 978 2760
Mobile: +27 83 414 4720
Email: KabeloLedwaba(at)flysaa(dot)com
Digital
Website: http://www.flysaa.com
Twitter: @flysaa