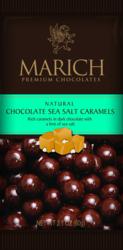 True to the personality of the Marich brand and the van Dam brothers, a final personal touch was added. Opening each box of Marich chocolates reveals a fun, often tongue-in-cheek one-liner.
Hollister, Calif (PRWEB) November 06, 2012
After 29 years of creating premium chocolates for the specialty consumer, Marich Confectionery has upgraded its approach to the specialty market. The family-owned premium chocolatier is excited to present an entirely new line of packaging designed to define and refine its brand and enhance the quality, value and awareness of its exceptional chocolate confections.
Inside their new packaging lies a broad array of delicious, handcrafted chocolates designed to meet the needs of the premium consumer including the rising demand for natural products. While Marich has always selected only the finest ingredients, the team has remained focused on creating confections that are highly desirable by ensuring that their chocolates meet a demanding combination of attractive, flavorful and natural.
The van Dam family chose to honor their Dutch and Portuguese heritage by creating the golden winged lion that is now part of its new logo seen on each Marich package. The newly designed gable box has the look and feel of satin chocolate. The embossed text beautifully reflects the light on storefront aisles catching the eyes of consumers and retailers alike. A bold color scheme creates continuity among the variety of delicious creations while giving the customer an indication of what is inside and a quick cue to help loyalists locate their favorite.
"My brother Troy and I wanted to expand the presence of our brand and share our passion for the art of premium chocolates with an even broader audience," said Brad van Dam, CEO of Marich. "With nearly 30 years of experience and a desire for significant growth, we approached this project in an entirely different way."
Months of targeted research yielded the ideal consumer profile, where they shop, why they buy and what makes Marich unique and desirable. The data was melded with analyses of the product styles and segments that drive Marich's overall business, and a cohesive product line began to take shape. This helped its design team focus and the result is a complete line with chocolates that present a variety of tastes and experiences to appeal to a range of consumer preferences.
True to the personality of the Marich brand and the van Dam brothers, a final personal touch was added. Opening each box of Marich chocolates reveals a fun, often tongue-in-cheek one-liner. "Cheaper than therapy," reads on each box of chocolate covered cherries. "Well helloooo beautiful," welcomes you to every box of chocolate strawberries. While "your new obsession" invites you to enjoy their chocolate toffee pistachios which some say are so good they define them as "so good …they're bad."
Marich's delicious chocolates tempt every taste desire including chocolate fruits, nuts, coffee, toffee and caramels. Designed to explore and experience from rich to silky sweet, nutty and savory the selection invites you to try a twist on an old favorite and experience flavors you may never have considered.
About Marich:
Marich is a second-generation California family business following a 60-year tradition of fine confectionary art. With the imagination, dedication and creativity of the van Dam family and their team of confectionary artists, they share a lifetime love of chocolate and confections.
They are committed to supporting local growers and producers by sourcing many of their ingredients and materials from their home state of California. Marich premium chocolates are infused with quality, creativity and diversity. Their selection is designed to provide the ultimate experience, from premium fruits, fresh roasted nuts and handcrafted toffees and caramels.
Press Contact:
Tyger Danger
Uproar PR for Marich
321-236-0102 x230
tdanger(at)uproarpr(dot)com
###