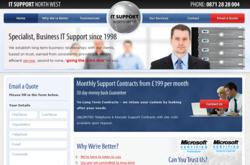 The purchased list is very valuable and could have been used for a range of purposes
Liverpool, Merseyside (PRWEB) November 06, 2012
The details of 1.1 million Facebook users have been purchased online, highlighting a security breach on the biggest social media platform in the world.
 
Bulgarian blogger and digital-rights activist Bogomil Shopov, purchased the user details for just £3, which included email addresses and user IDs.
 
'Facebook released figures in a recent press release stating that they now had 1 billion monthly active users since its launch during February 2009,' says Tony Walker, director of IT Support North West. 'But since the launch of Timeline and the steady growth of third party apps, I've heard more users express concern over their privacy when using the site.'
 
Shopov claims he was visiting the website Gigbucks, a digital freelance jobs forum. A user called 'Mertem' posted the advertisement for the user details. The description read: 'The information in this list has been collected through our Facebook apps and consist only of active Facebook users, mostly from the US, Canada, UK and Europe.'
 
'The purchased list is very valuable and could have been used for a range of purposes,' says director of IT Support North West, Tony Walker. 'Examples include fraudulently inflating a page's 'likes' and fan numbers to create the illusion of popularity and thus, authenticity.'
 
'Facebook is vigilant about protecting our users from those who would try to expose any form of user information. In this case, it appears someone has attempted to scrape information from our site,' said a spokesman for Facebook. 'We have dedicated security engineers and teams that look into and take aggressive action on reports just like these. We continue to investigate this specific individual.'
 
'Of course, Facebook will no doubt be doing everything they can to source the security breach to prevent a situation like this from occurring again,' says IT Support North West director, Tony Walker.
 
Shopov's blog post about the alleged purchase described how Facebook's 'policy team' had contacted him to investigate but requested that he keep their conversations and investigations private.
 
'I'm not surprised that they made such a request,' says Tony Walker, director of Liverpool-based IT Support North West. 'Facebook as a brand has a huge profile to protect, and it is negative press that can panic the users.'
 
'We have dedicated security engineers and teams that look into and take aggressive action on reports like those raised here. Since this is on-going, we are not in a position to discuss the investigation at this time,' said a Facebook spokesman.
 
'Of course, the current culture of online connectivity is going to suffer security breaches as it develops,' says Tony Walker, who offers IT Support across Liverpool with his company IT Support North West. 'It's important to always remember that the personal information we upload always has the potential to be stolen - as platforms and programs develop, so do the unscrupulous who attempt to breach their security.'
 
'Anyone can grab your data,' says Shopov, who founded Bulgaria's privacy and digital liberties group the Pirate Party in 2010. 'Users click 'I agree' or 'I accept' and their information goes off to the application developer, who can do whatever they want with it.'
 
'To protect your identity on Facebook and other social media platforms, don't be tempted to complete all of the fields on offer,' advises Tony Walker, an expert in IT support Liverpool. 'Your full name, parts of your address and your real birth date are all valuable pieces of information that can be used against you by criminals and data-gathering agencies who can sell the data for profit.'
 
'When you put information on the internet, do not use your real name, your real date of birth,' says Andy Smith, Internet Security Chief at the Cabinet Office. 'When you are putting information on social networking sites don't put real combinations of information, because it can be used against you.'
 
'Although Facebook is doing everything it can to prevent security breaches, it appears it is information gathered from third party apps that were responsible for this breach,' says Tony Walker, an IT support Liverpool expert and director of IT Support North West which offers IT support in Lancashire. 'We as users need to be extra cautious as to how much information we share as third party apps don't have to adhere to the same tough security measures, yet we cannot choose what information we share with them.'
 
'It can be very tempting to sign up to social networks such as Facebook when all of your friends have accounts and the platforms are the best way to stay in touch,' says IT support Lancashire expert, Tony Walker. 'However, in light of this recent breach in security, I'm advising my customers to be very wary of what information they share on social media.'
 
'The way of viewing this issue is that we should work with Facebook to ensure people feel secure using those sites and that there is not a threat of identity theft,' says Culture Minister Ed Vaizey. 'It's also important for the government to work with consumers, to educate consumers about the threat of identity theft and what kind of details we should and shouldn't put online.'
 
'For social media users who are already concerned about the amount of information they have shared online already,' advises Tony Walker, a supplier of IT support in Bolton, 'I'd strongly recommend deleting your current account completely and opening a second, 'cleaner' version. Be wary of what information you share and what media you upload. After all, apart from a profile photo, which is often essential on social media, is there any need to share anything more? Just because you can share your relationship status, family photographs and details of your education, it doesn't mean that you should do.
Even with the current privacy controls, third party apps can still access whatever details you enter. The best way to protect yourself is not to enter very much information at all.'
This press release is part of an SEO campaign by Manchester search engine marketing consultants - Vizcom