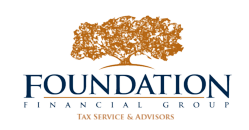 We are excited to have quickly realized this level of success which enables us to employee our neighbors in this Jacksonville community.
Jacksonville, Florida (PRWEB) November 21, 2012
Since its January 2012 inception, Foundation Tax Services, affiliate of Foundation Financial Group, has reported record month after record month and already undergone one expansion. Due to continued success, Foundation Tax Services announced the completion of their second expansion of 2012 which increased sales staffing by 40 percent.
"We are excited to have quickly realized this level of success which enables us to employee our neighbors in this Jacksonville community," said Foundation Financial Group Senior Tax Attorney of Tax Services, Ronnie L Hicks Jr., JD, LL.M, EA. "Our plan is to continue to grow our business and provide much needed jobs to Jacksonville. We have an excellent team that understands both individuals and small businesses have their own unique tax situations with numerous variables that come into play, and we are glad to help resolve these issues."
Foundation Financial Group has realized tremendous growth over the last two years. In 2011, FFG launched three new financial services affiliates to accompany its established mortgage division, and opened one regional sales center and five retail branch office locations across the nation. Through third quarter 2012, Foundation Financial launched its Wichita retail branch office location, launched its second Indianapolis retail branch office location, launched its Denver retail branch office location, launched its Raleigh Insurance Services affiliate, expanded its Marketing and Public Relations divisions, expanded its Jacksonville, Atlanta, and Savannah Regional Sales Center Mortgage divisions, and expanded its Insurance Services affiliate and its Tax Services affiliate. Strategic expansion goals for the remainder of 2012 call for the recruitment of ten tax professionals to join the Foundation Tax Services employee population.
About Foundation Tax Services
Foundation Tax Services is an affiliate of Foundation Financial Group, one of the nation's fastest-growing financial services companies, specializes in mortgage lending, property and casualty insurance, life insurance, retirement services, personal taxes and corporate tax services. Foundation Tax Services specializes in placing taxpayers into arrangements with the IRS through the company's in-depth understanding of the tax code and IRS resolution programs.
About Foundation Financial Group
Foundation Financial Group is a multibillion dollar financial services corporation. FFG offers its customers Best in Class service through its Insurance, Retirement, Mortgage, and Tax Services. Named one of the fastest growing financial companies in the country by INC magazine, FFG has continued to grow its nationwide presence with over 100,000 new customers per year in 39 states. In addition to the value that Foundation Financial provides every customer, it is also dedicated to its communities and the people who live in them. Through a vast array of philanthropic endeavors the company not only provides significant monetary donations but also fosters a workforce environment that encourages all team members to personally make a difference. Foundation Financial is committed to its strong focus on customer service and community investment as it continues to grow and compete with the largest financial institutions in the world.
Foundation Financial Group reviews all public relations inquiries. For additional information, interview and image requests, contact the Foundation Financial Group Public Relations team.