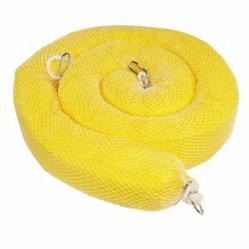 "We keep booms and socks on hand at all times at our marina to contain oil spills from getting into the waterways. A great solution that is affordable and easy to use."
Lake Oswego, OR (PRWEB) November 12, 2012
Spillkitcentral.com is now offering booms and socks for chemical or hazardous spills that require immediate containment. The HazMat Polypropylene Boom are filled with sorbent materials and can be molded and fit around a spill source to form an absorbent barrier to keep surrounding and adjacent areas from contamination. Once the boom is filled with the spill contents, the soaked boom can be discarded into an appropriate receptacle and replaced with a new one until the spill has been contained and eliminated. The Oil-Only Sock/Net Boom is used only for absorbing and containing oil. The sock is filled with sorbents that make the sock durable enough to not shed or sink when saturated with oil. The sock will repel water and thereby will float and absorb oils and other hydrocarbons. Easy to use connectors will create a containment system big enough to handle almost any size of spill. The white sock makes it easy to see when it's fully saturated and thereby saving money by not throwing it away too soon.
Automobile repair and service stations would benefit greatly by keeping spill containment booms or socks on hand for those accidental spills. Oils and other chemicals for cleaning and repairing vehicles are used on a daily basis. Oil spills can happen during vehicle oil changes and the socks are a great solution for keeping the oil contained. When a business utilizes oils for operation there are regulations that must be complied to. The Oil-Only sock will provide compliance to regulatory citations by having the sock or booms in safety detailed plans to prevent illegal discharge of pollutants into waterways.
Booms are a perfect solution for the control and clean up of oil spills on water and therefore are great for oil rigs or industrial boat traffic, marinas and construction sites near water. By not preparing for oil spills and waiting until an oil spill accident happens can costs hundreds or thousands of dollars in overnight shipping as well as huge pollution fines. A boat marine owner commented, "We keep booms and socks on hand at all times at our marina to contain oil spills from getting into the waterways. A great solution that is affordable and easy to use."
Please visit http://www.spillkitcentral.com/Universal-Spill-Kits/ or call toll-free (866)777-1360 to learn more about socks, booms or other spill kits.