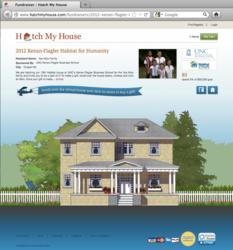 We're very excited to be involved in this year's fundraiser with UNC Kenan-Flagler and Habitat for Humanity of Orange County
Chapel Hill, NC (PRWEB) November 07, 2012
University of North Carolina Kenan-Flagler Business School has partnered with online gift registry platform Hatch My House to help fund and build a house with Habitat for Humanity of Orange County, NC.
As part of its 9th annual collaboration with Habitat for Humanity, UNC Kenan-Flagler aims to raise $50,000 for the project by the end of April 2013.
The partners are raising money to build a house for Yoe Moo and his family, who emigrated to the U.S. from Burma in 2008 after almost 20 years of living in refugee camps on the Thailand border. Yoe Moo currently works in UNC's Housekeeping department.
The virtual house, created on HatchMyHouse.com, helps students, alumni and the general community to donate and see progress toward the fundraising goal of building the real house, already under construction. In addition to providing a convenient and creative fundraising platform, Hatch My House is donating 50% of its transaction fee back to the Habitat for Humanity of Orange County, NC for the project.
"We're very excited to be involved in this year's fundraiser with UNC Kenan-Flagler and Habitat for Humanity of Orange County," said Rieve MacEwen, founder of Hatch My House. "We want to continue supporting similar fundraisers to help put a roof over those who need it most."
Along with the fundraising efforts, UNC Kenan-Flagler community members volunteer their time to build Habitat for Humanity houses.
"We are grateful to UNC community which has provided thousands of volunteer hours to provide safe, affordable housing for deserving families in Chapel Hill and Hillsborough, N.C.," said Max Kunisch, member of the 2012-13 UNC Kenan-Flagler Student Habitat Committee.
You can donate, watch fundraising progress and learn more about this charity project.
About UNC Kenan-Flagler Habitat for Humanity Project
From its earliest days, University of North Carolina Chapel Hill has honored and cherished its responsibility to serve the people of North Carolina. Since 2005, the students, faculty and staff of UNC Kenan-Flagler Business School have come together to fund and build a house for Habitat for Humanity. So far, UNC Kenan-Flagler has funded four houses in Guatemala and Honduras and eight houses in North Carolina to the tune of $334,000.
About Hatch My House
Hatch My House is a unique online gift registry that helps recipients save for a house of their dreams through donations from friends and the larger community. Its elegant, interactive platform is the ideal gift registry choice for weddings, graduations and fundraisers with a goal of home ownership. Since its launch in 2009, Hatch My House has helped customers save over $780,000 toward home ownership. Hatch My House has received rave reviews from Los Angeles Times, NBC, Yahoo, Brides, MSN Money, Glamour and San Francisco Chronicle.
About Habitat for Humanity of Orange County, NC
Habitat for Humanity of Orange County changes lives by helping families in need build and own quality affordable homes in safe and supportive communities. HHOC offers homeownership to Orange County families who otherwise may not have the opportunity to own a home of their own. Volunteer labor is used to build homes to keep costs low for Habitat families. Since its start in 1984, HHOC has built more than 200 homes locally and more than 140 homes internationally. More info on http://www.orangehabitat.org/.