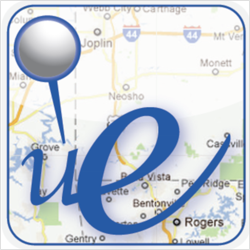 Genealogy, Travel, and Business uses are the most common type of maps being created.
Philadelphia, PA (PRWEB) November 06, 2012
Traditional pin maps have been paper and tacks – absent of interactive qualities and unable to be widely shared. Uencounter.me has brought the concept of wall maps and pins into the virtual world and wrapped it in social functionality. It allows users to build a geographic visual representation of both practical and emotional information; creating maps that are meaningful to their lives.
Uencounter.me has been bootstrapped by a dedicated team of just three hard working entrepreneurs but has seen a tremendous growth from very humble beginnings. Uencounter.me's CEO Leslyn Kantner got the idea for UE when she wanted a pin map that would overlay her life's travels with that of a friend to identify common experiences. She was unable to find a program that allowed such functionality and brought together a developer and business consultant to build what is now the number one search result for "virtual pin map" on Google. The site has evolved extensively from its original premier.
Over the last few months, uencounter.me has introduced interactive user profiles, streamlined the pin entry process, and allowed Partner Level users to embed their custom maps onto blogs and/or websites. Users can create any grouping of public or private pins, customize combinations of pins onto any number of different maps, and share them broadly through social networks or email.
"Genealogy, Travel, and Business uses are the most common type of maps being created" states Kantner, "but we are seeing all types of uses, many we could not have predicted". With thousands of users creating maps that are meaningful to their lives that they can share with friends and family, uencounter.me is experiencing a growth spurt. Non-profits receive a complimentary upgrade of user benefits and often use the map to create a visual representation of the scope of their work; pinning places all over the world where their impact is felt. Kantner explains she is most excited about the use of uencounter.me's pin map platform for emotional support.
"We have a number of users who are experiencing difficult times with illnesses in the family and have garnered a lot of support around the world through various social media channels. They have been creating maps and asking supporters to drop a pin. It is heartwarming to actually see a visual representation of where support is coming from," states Kantner. "Several families have shared with me how powerful and humbling at the same time it has been to see the geographic extent of support being offered to them. I am also humbled".
Uencounter.me offers a wide range of features completely free and charges a modest price for upgraded memberships for individuals who want an ad free experience or businesses that use the application for commercial purposes.