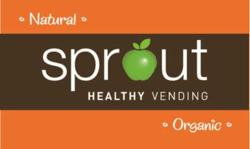 I was motivated to become a Sprout Healthy Vendor because of my overall desire of entrepreneurial spirit, the demand for increased healthy food choices, and knowing that our small business can make some changes in my local community's eating habits.
Irvine, CA (PRWEB) November 07, 2012
Irvine-based Sprout Healthy Vending is bringing health food vending to Grand Rapids, Michigan thanks to newest operator, David Hansen. Hansen will be placing his machines in and around his community in Grand Rapids where he resides with his wife, Arryn. Sprout Healthy Vending is a national leader in the booming vending industry bringing all-natural and organic snack options to schools, offices, and communities all over the country.
"I was motivated to become a Sprout Healthy Vendor because of my overall desire of entrepreneurial spirit, the demand for increased healthy food choices, and knowing that our small business can make some changes in my local community's eating habits." Hansen shares.
Both David and Arryn are natives of Michigan and they grew up together but then went their separate ways in college. Arryn attended Central Michigan and studied Public Relations and Journalism. David completed his undergrad at Michigan State studying Hospitality Business and then went on to graduate at Western Michigan in Organizational Communication.
"I am probably one of the only operators who actually earned college credit in a vending machine management class! I have grown up in the food service industry my entire life as my Dad is a partner in a hospitality company in Michigan and is on the board of directors of the Michigan Restaurant Association," Hansen says. "It was only natural for me to get involved in this industry."
In college, Hansen says he was like most young kids, ate horribly, didn't care about his body, and developed poor eating habits. This wasn't a concern for him until February of 2009.
"My wife and I began making changes to our diets and lifestyles not long after graduating from college. We noticed that the things we use to eat in the dorms or while living with friends, left us tired, not feeling well, and began taking a toll on our physical and mental abilities. But the biggest events that opened our eyes to healthier living were due to some losses in our family and friends," Hansen states. "We both had people we were close to that lost their lives from years of poor dieting and/or physical exercise. The best cure is early prevention, and Sprout Healthy Vending is just one choice that is easier to make that can help prevent children from becoming just another statistic."
David and Arryn are thrilled to be apart of the Sprout family. "My experience with the Sprout staff has been very positive thus far. Sprout has a solid team with many people of varying backgrounds and experiences, all of which have led them to Sprout. It is clear they truly believe in the business model and product and that is essential for making any business successful," Hansen says.
Hansen is very optimistic that the locations around Grand Rapids will be just as excited about Sprout Healthy Vending as he is.
"The Sprout machine's technologies are very different than any other machines out there today as they are much greener and smarter than vending machines when I was in school. The ability to use a debit or credit card makes Sprout vending options all the more accessible and convenient," Hansen shares. "Finally, the products are what will really help us stand apart from traditional vendors. Once people have the opportunity to taste and purchase food that is not only healthier, but tastes good, the food habits and choices we all make each day become that much easier."
Hansen continues, "We are very excited to offer these healthier options in our community. So many people want to make better choices, but often establishments and convenience stores have such a limited and traditional selection, making it harder to make a smarter decision."
David and Arryn are confident that Grand Rapids will definitely benefit from them bringing Sprout Healthy Vending to their community. "Sprout offers alternative vending options that are healthier for us all. Personally, I have been able to try new products and food I didn't know was previously available," Hansen says. "When you combine the taste with the reductions in fat, sugars, and sodium, it becomes easy to see why more and more people are making healthier decisions. Healthier and organic food doesn't have to taste worse, and Sprout has done a good job of finding and providing those products."
Co-Founder, Chris Wyland says, "Because of the Hansen's passionate approach towards healthy and nutritious lifestyles, their business is bound to be a success. It takes people like this to make positive changes within communities, and I am confident that with the Sprout machines, David and Arryn will make a difference in Grand Rapids."
"Sprout Healthy Vending is a company that is truly passionate about the services they offer, community involvement, and the prevention of many of the health epidemics currently plaguing our country. Sprout Healthy Vending is not about forcing any products onto our kids and into our communities, but giving people information and choices about their snacks and beverages," Hansen says.
About Sprout Healthy Vending
Sprout Healthy Vending provides state-of-the-art vending technology, thousands of healthy and organic products and turnkey customer solutions for regional operators. Currently, Sprout Healthy Vending has over 80 operators in 40 markets in the U.S. with 1,000 individual locations projected by the end of 2012. To learn more about the company, locations and products please visit http://www.sprouthealthyvending.com or call (800) 450-7648.