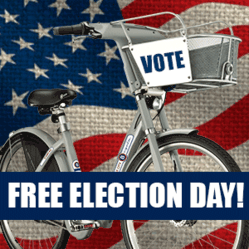 "Our freedom of movement is one of our most important freedoms, protect this by voting with your feet. B-cycle is free on election day" States Eric Rogers, Executive Director, Kansas City B-cycle.
Kansas City, MO (PRWEB) November 05, 2012
Kansas City B-cycle, Powered by Blue KC, is the easiest way to get around Downtown Kansas City, especially on Election Day. On November 6th Kansas City B-cycle is offering free 24-Hour memberships to make it even easier to "Bike the Vote". Kansas City B-cycle is also giving away two annual memberships to the best photos of B-cycles at polling places.
There are at least 4 polling places that are close to B-cycle stations, find the B-cycle station near your polling place here.
Here's how to take advantage of our Election Day discount:
1. Purchase a 24 Hour Membership. Swipe a credit card at any B-station and use promo code "110612" or click on Join Now at kansascity.bcycle.com and use discount code "kcelection12". Your card will not be charged for the 24 Hour Membership.
2. Use that same credit card to check out a bike at any of the twelve B-stations in Greater Downtown.
3. Go Vote. Be sure to use the included cable lock to lock up your B-cycle.
4. Return the B-cycle to any B-station. Membership is good for a full 24 Hours, so feel free to check out bikes again and again. Just remember that each checkout accrues usage fees of $2 per half hour, after the first half hour.
Join the B-cycle Election Day Photo Contest
Show us your patriotism! Tweet, email or Facebook tag a photo your bike at the polling place. The best photo wins two annual memberships. (Current annual members will have their memberships extended for another year). Any bike at any polling place qualifies!
Tweet the photo and mention @bikesharekc.
Post the photo on Facebook and tag Bike Share KC.
Email the photo to bcycle(at)bikewalkkc(dot)org.
BikeWalkKC is the unified voice for active living, promoting a healthy, safe and accessible outdoor experience for all in a vibrant, engaged community. BikeWalkKC is a member-supported organization that works to make Greater Kansas City a safer and more accessible place to walk, bicycle, live, work, and play. The advocacy programs work with local cities to improve policies and build sidewalks, trails, crosswalks, bike lanes, and more. BikeWalkKC's education programs give people the knowledge and skills to walk and to bicycle safely and confidently for transportation, recreation, and fitness. Learn more at BikeWalkKC.org.