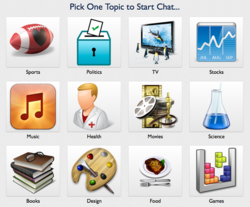 It should be easy to chat without downloading, installing, creating accounts or adding connections. Lifetime.fm makes it happen.
San Jose, CA (PRWEB) November 14, 2012
Once upon a time when Yahoo chat rooms were very popular. Kids used to spend their evening using the service, either chatting with people or playing flash games there. It was real-time, fun and entertaining.
Yahoo chat rooms are known to be full of bots and have resulted into unhappy chatters. The spammers have taken them over and hard to interact with real humans there. There is an opportunity in creating web based video chat rooms.
Lifetime.fm chat rooms are created for popular topics like sports, politics, design, movies, games, television, science, food, books, music etc. Lifetime.fm has made it really easy to participate in the chat. User can get started from the home page by clicking on one of the icons. The video chat room will load inside major web browsers. Users will have complete control on their participation in the conversation. Someone can participate anonymously only using text or prefer to use audio or video chat by choice.
Users can create their own video chat room and invite friends, family or anyone to participate in audio, video and text chat. Their lock and key feature enables users to make their chat room private.
Lifetime.fm decided to use their existing chat room technology and come up with browser based chat rooms. Interest based chat rooms would be a fun new way to meet people based on common interests and learn new things in the topic of interest. Lifetime.fm has made it to be easy and doesn't require downloading or installing anything to get started. Users can even participate anonymously to get started with the service.