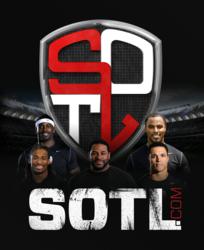 "This is truly a win-win situation," said SportsBlog CEO Roy Dano. "Players are
rewarded to connect with their fans, and SOTL and SportsBlog gain access to exclusive content that provides unique insights in
Nashville, TN (PRWEB) November 28, 2012
SOTL.com and SportsBlog.com have announced a partnership that will empower NFL players to start their own blog about topics they are passionate about. Current players and NFL legends such as Barry Sanders, Patrick Peterson, Stevie Johnson and Jerome Bettis have already started blogging, sharing their unique insight with fans, and hundreds more are expected to follow. The blogs are geared towards fans and are available for free on both sites starting today.
SOTL.com, a licensed partner of the NFL Players Association, has more than 2,500 former and current players contributing to the site, making it the true "Voice of the Players" online. SportsBlog.com is a leading blogging platform for sports fans around the world, and rewards bloggers with an innovative revenue-share program. Together, the two companies are able to offer players a new way to connect with their fans and to get their voice heard.
Barry Sanders, ranked as the most elusive runner in NFL history and one of the greatest players of all time, was one of the first players to embrace the initiative.
"My blog on SOTL helps keep me in touch with the game and tells my fans what I will be watching for that weekend!" said Sanders, whose blog, "Around the League with Barry Sanders," can be read at BarrySanders.SOTL.com
The initiative opens up SportsBlog.com's blogging technology to SOTL.com's extensive network of players. The two companies work together to assist players in creating, maintaining and promoting their blogs and all blog posts written by the players are syndicated to both sites.
"SOTL.com's mission is to be 'The Voice of the Players,' and our partnership with SportsBlog.com is an example of how we are achieving that goal," said David Byerley, SOTL's CEO. "Never before has there been such a large network of blogs written by the players themselves, covering the topics they are most passionate about."
Patrick Peterson, who had one of the most exciting rookie seasons of all time last year with the Arizona Cardinals, uses his blog to share his passion for muscle cars on his "P2's Keys To The Ride Blog," which can be accessed at PatrickPeterson.SOTL.com.
"I like the fact that through this blog, people will be able to see that I have a passion for things outside of football, which can encourage those people to have a passion for different things," said Peterson.
"This is truly a win-win situation," said SportsBlog.com's CEO Roy Dano. "Players are rewarded to connect with their fans, and SOTL.com and SportsBlog.com gain access to exclusive content that provides unique insights into life in the NFL, both on the field and off."
All player blogs can be accessed at http://www.sotl.com/blogs.
About SOTL.COM
SOTL.com was founded in 2009 as a licensed partner of the NFL Players Association and serves as "The Voice of the Players," with more than 2,500 current and former players contributing to the site. SOTL.com is the player's site where they comment directly on football news stories of the day and contribute to exclusive player polls that give fans their perspective on the league's most important issues.
About SPORTSBLOG.COM
SportsBlog.com, founded in 2010, is a leading blogging platform for sports enthusiasts, fans and players. The site makes it easy for anyone to instantly start their own sports blog. Members receive their own You.SportsBlog.com subdomain; access to premium sports themes; and the option to participate in an easy-to-use revenue-share program that shares ad-revenue with the bloggers. SportsBlog.com is the first community to launch in the GoBlog.com Network, which includes FoodBlog.com and MusicBlog.com