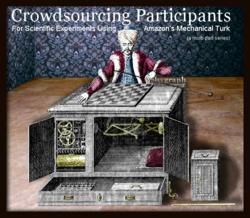 Amazon Mechanical Turk is the core of our business. We are in a people-hungry business. All of our work is done by people. It's not a mass-production thing; it is individual hand-crafted work
Boise, Idaho. (PRWEB) November 07, 2012
A research done by Scientist Panos Ipeirotis from the Leonard N. Stern School of Business, New York shows that from a randomly selected sample of 1000 workers on Mechanical Turks, 340 were working from India. This is an indicator of the rising popularity of internet based crowd-sourcing programs. These programs are a great way of integrating talent from all across the globe onto a single platform that is accessible to people wanting to hire international personnel. It has made it possible for people to make money online by simply enrolling onto the MTurks program.
The Mechanical Turks program is highly friendly to international Providers (or employees), especially those from India. The program has made it possible to pay to Indian contractors in Indian Rupees. By paying people in their own currency, the MTurks program has made itself more accessible to international contractors who are interested in making money online. This significantly improves the pool of talent available to Requesters (or employers) who want to get their jobs done.
A trend that is quite visible in the demographic data of MTurks workers, as collected by Panos Ipeirotis, shows that the percentage of workers from the US has dropped from the previously dominant numbers of 70-80% to 46.8%. The gender distribution of data suggests that most of the American workers are females. On the other hand, Indian workers are predominantly single males with a household income of US$10,000 or below. The average age of an MTurk worker is 32 years. These data are a clear indication of the changing working priorities of Indians. It can be clearly seen that a large proportion of Indian workers now want to work online for international clients due to the increased job opportunities available online.
DotComSecrets can prove to be highly beneficial for people who want to make money online. With the help of its online training on http://www.dotcomsecrets.com/, the agency can reach out to Indians who want to earn online. There are numerous opportunities for low cost Indian labor in the market of the West and DotComSecrets can help train prospective workers in order to win the best jobs available. DotComSecrets helps individuals enhance their skills and learn how to make money on the internet.