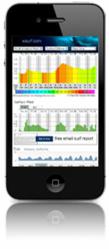 We went back to a simpler, easy to read, one-page surf report format and added a better way to see the swell intensity
Ventura, California (PRWEB) November 07, 2012
WetSand is back. The new website, wsurf.com, features expanded forecasting in the classic, pure surf aesthetic as well as many other surf culture features that promises to once again make it one of the most prominent original surf sites available.
The modern redesign incorporates bold colors, graphics, surf photography and completely new, user-friendly navigational tools that will resonate with surfers and enthusiasts alike. Visitors will be delighted with the clean interface and the absence of pesky ads.
"We went back to a simpler, easy to read, one-page format and added a better way to see the swell intensity," says developer/owner Chuck Menzel. "This was the one thing that resonated from all the loyal WetSand users. They like the original, classic report better. We also took that approach on our mobile phone version."
The site, which boasts quick and easy access to surf reports, was built from the ground up to be mobile-friendly with surf, wind, tide, weather and buoy reports from around the world. "We cover the world, but our roots are the West Coast. It coincides with WetSand's ongoing efforts to enhance and represent the authentic surfing culture of the central coast.
The high-resolution photography in the images section represents the central coast's best and most respectable surf photographers in the industry.
The launch of the wsurf.com coincides with the 5th year anniversary of the Ventura, CA-based WetSand retail store.
About WetSand:
WetSand was originally started in 1999 and grew to become one of the largest surfing sites in the world. It was sold in 2006 and again in 2009. The Menzel family retained ownership of the WetSand trademark and brand and launched WetSand Surf Shop in Ventura in 2007.