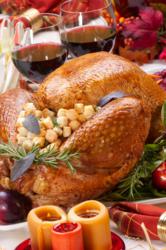 Since 2006 the ARC Broward Culinary Institute has provided gourmet catering services for clients across South Florida
Sunrise, Florida (PRWEB) November 07, 2012
Looking to reduce the stress of cooking AND contribute to a worthy cause this Thanksgiving season? The ARC Broward Culinary Institute can help by providing a gourmet catered Thanksgiving feast that serves 10-12 people.
Thanksgiving meals (for 10 to 12 people) are $109.99 and include a choice of a freshly roasted, fully cooked Turkey complete with gravy and cranberry sauce or a mouth-watering spiral Ham, the trimmings such as baked yam casserole, scalloped potatoes and traditional herb stuffing as well as a choice of homemade pie.
Orders are being accepted through Monday, November 19, 2012 and will be available for pick up or delivery. Simply heat, serve and enjoy a delicious Thanksgiving feast.
Meals are also available for individual or corporate-based purchase to feed families in need through an organization of your choice. Simply call 954-746-9400 ext 4123 to find out more about placing multi-meal orders.
Established in 2006, the ARC Broward Culinary Institute has provided gourmet catering services for a variety of clients throughout South Florida such as City Furniture, the Broward League of Cities and many more. All proceeds from the catering business are invested back into the Institute to train future student chefs who enroll in the post-secondary culinary arts certification program. Under the direction of ARC Broward's Executive Chef, Andres Marin, student chefs also obtain job-training opportunities by assisting with catering events secured by the Culinary Institute.
To order your Thanksgiving meal today and to learn more about the ARC Broward Culinary Institute visit http://www.arcbrowardculinary.com. Like what we are doing? Show us at facebook.com/arcbrowardculinary
ABOUT ARC BROWARD
Incorporated in 1956, ARC Broward is a nationally accredited, private, 501(c)(3) not-for-profit organization providing services to children and adults with autism, Down Syndrome, and other intellectual disABILITIES, as well as those with various life challenges. ARC Broward operates three social enterprises including the ARC Broward Learning Institute, ARC Broward Culinary Institute and ARC Broward Electronics Recycling Services and provides 22 programs in 8 locations across Broward County. By working hand in hand with families, guardians, businesses, civic organizations, and funders, encouragement and opportunities that create life-changing outcomes are provided so that people with disABILITIES and other challenges can live, learn, work and play in their communities. To learn more or to donate visit http://www.arcbroward.com or call 954-746-9400.