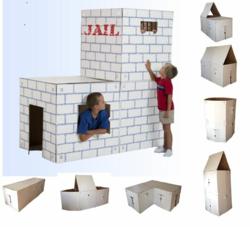 I love this idea! MyBoxFort keeps my grandkids busy for hours. They love to build something new every time they come over. Definitely a must-have toy!
Tampa Bay, Florida (PRWEB) November 15, 2012
MyBoxFort is a fun fort-building kit that fires a child's imagination. From a castle or playhouse to a pirate ship or fortress tower, MyBoxFort gives kids the freedom to design, build and decorate a custom fort to suit whatever fantasy world they have in mind. If they change their mind, they can take it apart and build something else, providing hours of technology-free play. MyBoxFort also helps build spatial reasoning and fine motor skills as kids create their own unique fort designs.
MyBoxFort borrows inspiration from a classic cardboard box (what kid doesn't love to play with a box?) and takes it to the next level. By combining sturdy, double-ply cardboard panels and easy-to-use clips, MyBoxFort allows little designers to create a wide variety of structures. Kids can even clip paper to the outside of the panels and use markers, paint and crayons to further enhance their masterpieces.
Parents love MyBoxFort too. It's large enough to allow adults to get in on the fun. Best of all, it can be quickly taken apart and stored flat for another day's play. Unlike more permanent fold-up kits with pre-stamped designs, MyBoxFort offers unlimited flexibility for creative play – and it won't clutter up the living room.
MyBoxFort is a green toy that is eco-friendly. Its cardboard panels and paper sheets are made in part from recycled materials and are 100% recyclable. The company uses sustainable business practices and ships in a carbon-neutral process.
The MyBoxFort starter kit has everything needed to create eight different designs. The kit includes 11 panels with pre-cut doors and windows, 23 connectors and 44 clips, all packaged in a sturdy storage box. Paper sheets and crayons are sold separately. Adult assistance with assemble is suggested. Intended for ages six and up.