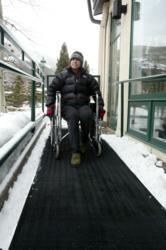 We get a lot of snow in this area and our residents and staff have to be very careful to avoid slips and falls
Paterson, NJ (PRWEB) November 06, 2012
At East End Disability Associates (EEDA), caring for those on Eastern Long Island with developmental disabilities is a full-time operation. The organization, which provides housing as well as educational, medical, and recreational services to over 650 disabled individuals, admits that maintaining a slip-free environment during the snowy winter months can be a challenge.
"We have several ramps on our properties and they become extremely dangerous when snow melts and freezes over them," explains Vicki Johnson, EEDA's purchasing manager. "We get a lot of snow in this area and our residents and staff have to be very careful to avoid slips and falls."
In the past, EEDA's staff would use chemicals and salt to melt snow, however the messy slush was being tracked indoors and creating slippery hazards inside the buildings. The harsh salt also started to deteriorate exterior surfaces and with financial resources always at a premium, Johnson couldn't take the chance of having to regularly replace portions of the property.
As a result, Johnson turned to HeatTrak as an alternative solution for ice and snow removal. After reviewing their needs and layout options with the company's customer service department, EEDA purchased four mats, including three custom sizes to fit the buildings' configurations. Additionally, they installed HeatTrak's DS-2B Temperature/Snow Sensor Controller which automatically operates the mats when there is a snow or freeze. This makes it simple to keep surfaces clear at all times since the mats don't need to be activated manually.
Johnson notes how helpful HeatTrak was in determining their best choice of products and in assisting with the installation. "I'm in charge of purchasing everything from vehicles to housing supplies," she says. "But I didn't know much about heated mats. HeatTrak's customer service was so helpful in educating me about our options, ensuring I made the right purchase, and even advising our electrician during the installation."
Since installing the mats in February 2011, EEDA has been very pleased with the results. "We haven't had any incidents of slips or falls, which is obviously the most important thing. Our staff is also very happy that they no longer have to go out in the middle of the night after a snowstorm to start shoveling," says Johnson. "I would recommend HeatTrak to anyone. From their high-quality product to their terrific customer service, HeatTrak is a pleasure to do business with."
About HeatTrak
HeatTrak is the world's premier manufacturer of heated snow-melting mats. Founded in 2004, the company's products are an efficient and convenient way to eliminate snow and ice accumulation around the workplace and home. HeatTrak operates under two divisions. Its Residential Division sells heated mats for the home through hardware and home-goods stores throughout the United States and Canada. Its Commercial Division sells larger, industrial-grade products through facility maintenance and industrial supply companies in the United States, Canada, and Europe.