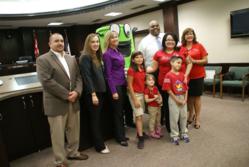 It is imperative that all businesses are conscious of their carbon foot print and the environmental impact their daily operations have
Laredo, TX (PRWEB) November 05, 2012
Six weeks ago Area-Wide launched its 20th annual Laredo-Borderplex Phonebook Recycling Contest to elementary schools in the Laredo area. Students in participating schools were encouraged to collect outdated phonebooks and turn them in to be recycled.
Today, Area-Wide is excited and proud to announce that this year's contest winners are Mary Help of Christians School, Barbara Fasken Elementary and Ligarde Elementary.
Laura Canales, Counselor at Barbara Fasken Elementary, said that her students are very excited about taking care of their environment. "The Green Dragons Recycling Club consists of third, fourth and fifth grade students that participate in different projects and events," said Canales. "The most important project of the year is the phonebook recycling contest. All students and teachers take place in this awesome event. We understand that we need to reuse, reduce and recycling to save money, energy and resources."
All local elementary schools were invited to participate in this friendly competition to determine which school could collect and recycle the most phonebooks. The three schools that collected the most phonebooks will be rewarded with cash prizes; the school that collects the most phonebooks will have their efforts rewarded with a pizza party from Habitat for Humanity.
Sherrill Coleman, Assistant Principal of Mary Help of Christians School, is very proud of her student body for working so hard to accomplish this year's goal. "The continued strides and efforts put forth for the recycling contest enhances their awareness and dedication to improving the quality of life and the environment [in Laredo]," said Coleman.
According to Jeff Folckemer, President & CEO of LocalEdge (Area-Wide's parent company) and Senior Vice President of Hearst Newspapers, this contest important for Area-Wide and the communities they serve for several reasons. "It is imperative that all businesses are conscious of their carbon foot print and the environmental impact their daily operations have," said Folckemer. "Likewise, these children are the future leaders of tomorrow and we must do our best to instill within them qualities that will allow for both environmental and economic success."
Area-Wide Digital Sales Manager Raul Cruz believes the recycling initiative supports Folckemer's thoughts. According to Cruz, this contest significantly impacts Laredo's environment while teaching children more about recycling. "Hopefully they will make recycling an important part of their daily lives," said Cruz. "By keeping Laredo green and beautiful, we'll help to preserve the earth's resources for longer. Area-Wide is aware of their environmental impact and is committed to consciousness."
Part of Area-Wide's internal initiative to decrease its carbon footprint includes a major shift in focus from a print product set to a digital product set. This includes online yellow pages and a mobile app that is now available via free download from the iTunes App Store.
For information on getting your school involved in next year's recycling contest, please contact Sylvia Garza, Recycling Coordinator for the City of Laredo Solid Waste Services Division, at 795-2510 or via e-mail at sgarza2(at)ci.laredo.tx(dot)us.
About Area-Wide
Area-Wide Phone Book is a publication of LocalEdge™, publishing print directories throughout the state of Texas. LocalEdge (LocalEdgeMedia.com), a Hearst Media Services Company, is a premier multi-media company leading the transition to web-based advertising for any size business. The organization has been in business for over 40 years and services customers nationwide.
Through the development of proprietary technology and partnerships with major search engines, social network sites and other leading tech-focused companies, LocalEdge offers a full line of digital marketing products that help its customers and business partners reach and interact with today's consumer.
Through a single-sign-on customer dashboard, LocalEdge enables customers to access digital products and proof of performance reporting within Internet marketing campaigns. Management tools allow the customer to preview, update and customize content as well as review and monitor analytics.