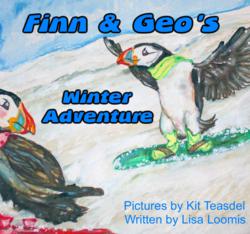 "Come on Finn, it will be our first big adventure.There is a sport called skiing and some do a thing called snowboarding. Puffins are meant to explore, it's why we were given wings, so we can sail over the ocean."
Park City, Utah (PRWEB) November 07, 2012
Finn & Geo's Winter Adventure is a funny, uplifting and fresh story that illustrates the skiing and snowboarding experience of two young puffins at Park City Mountain. With beautiful, original acrylic on canvas full color paintings by Kit Teasdel, the story of Finn and Geo unfolds making it easy for children ages 0 - 8 to understand the basic concepts of these winter sports while also learning about adventure and friendship.
This is the first children's book written by Park City resident Lisa Loomis although she has written and published the first two books in the Morgan Mallory Series (Adult Fiction): Boy in a Band and Casanova Cowboy. In the Summer of 2012 she released a new adult fiction book, Gem Rats.
With so many visitors in the Park City area during the winter months bringing children to the mountain who have never had an experience in the snow or with snowboarding and skiing, Lisa was inspired to write the story of Finn and Geo. The story shows what the experience was like for someone starting out trying these winter sports. She was fortunate enough to know Kit Teasdel, a painter residing in New Orleans, LA. The two then collaborated to create this original and beautiful children's book.
Finn & Geo's Winter Adventure is available on Amazon.com in Paperback and Kindle. Headquartered in Park City, Utah, Lisa Loomis Books is committed to the interests of her audience with products/services available in North America, Australia, Europe, the United Kingdom and Japan, as well as on the Internet.
Finn & Geo's a work of fiction. Names, places, incidents are either products of the author's imagination or used fictitiously. Copyright 2012 belongs to the author of this book, Lisa Loomis. The book author retains sole copyright to her contributions to this book.
Contact: Lisa Loomis
Books Name: FINN & GEO'S WINTER ADVENTURE
ISBN-10: 1478255382
ISBN-13: 978-1478255383
ASIN: B009NN26UW
Company: Lisa Loomis Books
Telephone Number: 435-647-7924
Email Address: lisa(at)lisaloomisbooks.com
Web site address: http://www.lisaloomisbooks.com
Lisa Loomis Books on Facebook: http://www.facebook.com/LisaLoomisBooks