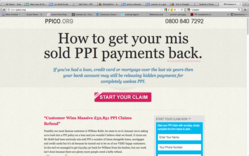 The PPI industry spews out incredible figures and continues to make the news.
(PRWEB UK) 7 November 2012
The mis sold PPI scandal has been bubbling away for the last five years with consumer watchdogs, MP's and the Media all campaigning for justice. In April 2011 a High Court Judge ruled that banks, lenders and insurance brokers had all mis sold PPI, opening the flood gates to a deluge of consumer complaints.
Since then there has been a constant flow of incredible figures, facts and statistics attached to the PPI claims industry and PPICo.org have put all the juiciest one's together, in one place.
Speaking about the List, Dominic Curtis, Head of Market Research at the company, said: "Even we are fascinated by the size of the PPI claims industry, it spews out incredible figures and continues to make the news. We thought it was time to put all of the most interesting facts and stats in one place for everyone to see."
Mr Curtis added: "We researched data from consumer watchdogs, the Media and the Financial Ombudsman as well as sifting through our own information banks. The result is a comprehensive collection of PPI industry figures with a real wow-factor."
The list includes facts about the total number of complaints made, the total amount set-aside by lenders and even the number of employees hired by banks to handle PPI claims.
Interested parties can also discover the uphold rates for claims against major lenders in the UK, so those thinking of making a claim can see what chance they have of a payout. The selection of facts is definitely impressive and if the rapid growth of the industry is anything to go by, the numbers are sure to just get bigger and bigger. To see the Ultimate List, go to: http://www.ppico.org/the-ultimate-mis-sold-ppi-facts-figures-list.
The team at PPICo.org have been handling successful PPI compensation claims for customers for over three years and their highest refund is a sizable £52,815. To start a claim through the experienced solicitors at http://www.PPICo.org or to find out more about claiming back PPI; call them for free on 0800 840 7292.