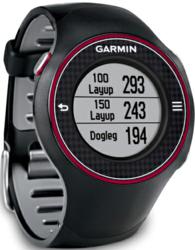 it gives you precise drive distances, hazard layups and even lets you move the pin on the green through touch screen technology to get super accurate approach shots
Bozeman, MT (PRWEB) November 07, 2012
The Garmin S3 Approach GPS golf watch has been ranked as the #1 golf watch for 2012 by fitness electronics retailer the Heart Rate Watch Company.
"This is the most technically sophisticated golf watch available anywhere and it gives you precise drive distances, hazard layups and even lets you move the pin on the green through touch screen technology to get super accurate approach shots," says Rusty Squire, President of the Heart Rate Watch Company.
The S3 Approach comes loaded with thousands of courses in North America and Canada built right in, plus owners receive a free lifetime course update. "It is mind-boggling that something so small, like a Garmin golf watch, can have that much data stored," says Squire. He adds, "My father-in-law played his daily at Ventana Canyon in Tucson and said the watch was really accurate and right on the money".
Garmin S3 Approach measures precise distances of each drive, the ensuing shot and even gives layup yardages to hazards like traps and dog legs, plus it measures walking distance during the game.
"Being able to choose the right club for each shot based upon precise distances gives you a big advantage," says Squire, adding that, "The ability to move the pins on greens is also a huge factor helping to make approach shots more accurate".
Other than wind speed and wind direction the S3 Approach really has all the tools necessary to accurately judge club selection and to make good strategy decisions based upon hazards. "This is why we voted the Garmin Approach S3 as our top golf watch for 2012," says Squire.
For golfers seeking distance information only in a less expensive package there is also the Garmin S1 Approach golf watch.