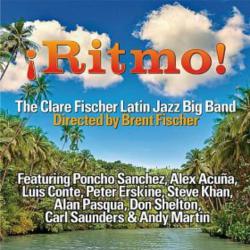 Los Angeles, CA (PRWEB) November 07, 2012
This year marks the 20th anniversary of the writing/arranging partnership between Brent Fischer and versatile pianist, composer, and arranger, the late Dr. Clare Fischer. Their new album ¡Ritmo! is the Fischers' 52nd release following their 2011 Grammy-nominated album Continuum. "I've produced the last five Clare Fischer albums for Clavo Records, with more to come," says Brent Fischer, director of the Clare Fischer bands.
¡Ritmo! is danceable and all-original material. Tropical music (Afro-Cuban, Brazilian) meets signature Fischer harmonies. Dr. Fischer founded Salsa Picante, his Latin Jazz group, thirty-five years ago. Poncho Sanchez and Alex Acuña were in the band's '78 line up. "Fans know and love these tunes," says Brent, who organized an impressive group of veteran players for this album. Poncho and Alex appear on San Francisco PM, a mambo arranged by Brent and mixed by 11-time Grammy-winner Rafa Sardina. "Rafa and Matt Brownlie did an outstanding job to help bring our creative vision to life," says Brent.
¡Ritmo! is the big band version of Salsa Picante with fifteen horns. Stellar musicians also include: Luis Conte, Peter Erskine, Steve Khan, Alan Pasqua, Don Shelton, Carl Saunders, Andy Martin, Ron Stout, Steve Huffsteter, Pete De Siena, Scott Whitfield, Francisco Torres, Bill Reichenbach, Alex Budman, Rob Hardt, and Jeff Driskill.
¡Ritmo! offers nine never-before-released arrangements by the Fischers. The song collection is like a Clare Fischer greatest hits playlist. Here you'll find big band versions of Fischer classics like Funquiado, Guarabe and Machaca.
Brent Fischer arranged two tracks and penned Rainforest, inspired by nature and Latin rhythms. "It blends our worldwide music influences with the highly idiomatic aspects of Latin rhythms and uses sonic colors to continue awareness of the rainforests that replenish our world in countless ways," says Brent, who plays electric basses, vibraphone, marimba, and keyboards on the CD.
Clare Fischer's legacy continues through Brent, who has shared music with his father for decades. "I've been recording my Dad for a long time to make sure we'll have his keyboard parts on future releases. Technology makes it possible for us to play together on this and future albums, similar to Natalie Cole's Unforgettable," says Brent.
¡Ritmo! is available NOW on http://www.ClareFischer.com
CD Baby
iTunes
Amazon
Watch the making of Clare Fischer new album ¡Ritmo!:
Full Press Release & EPK also posted at studioexpresso
# # #
About Clare Fischer
Grammy-winning versatile pianist, composer and arranger Dr Clare Fischer crossed freely from jazz to Latin and pop music, working with such names as Dizzy Gillespie, George Shearing and Natalie Cole as well as Paul McCartney, Prince and Michael Jackson. "I'm not just jazz, Latin or classical. I really am a fusion of all of those," Fischer described his sound in an interview with LA Times. It's been said that regardless of genre, Fischers' arranging and composing invariably possessed a rich harmonic palette, one that attracted and influenced notable musicians --Herbie Hancock, among them.
Dr Fischer, who passed away on January 2012, leaves behind a rich legacy of music. This year marks the 20th anniversary of writing and arranging partnership between Clare Fischer and his son Brent Fischer who produced ¡Ritmo! the new album with the Clare Fischer Latin Jazz Big Band. ClareFischer.com
About Brent Fischer
Brent Fischer continues the Clare Fischer tradition of versatile arranging and composing with a rich harmonic palette. Brent Fischer arranges and orchestrates for pop artists like Usher, Raphael Saadiq, D'Angelo, and Eric Benet, to name a few. He directs the Clare Fischer ensembles and produced the last five Clare Fischer albums, including the Grammy-nominated 2011 release "Continuum" and the 2012 release ¡Ritmo! featuring the Clare Fischer Latin Jazz Big Band with Poncho Sanchez and Alex Acuña.