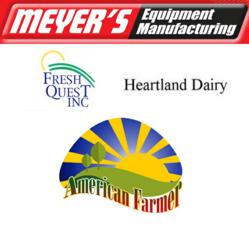 Jupiter, FL (PRWEB) November 06, 2012
DMG Productions announced today that an upcoming episode of American Farmer, centered on innovations in the agriculture industry, will air on Tuesday, November 6, 2012, at 8:30 a.m. EST on RFD-TV.
This episode will take viewers behind the scenes of the agriculture industry, featuring companies like Meyers Equipment Manufacturing Corporation, a company focused on increasing efficiency, while saving farmers time and money. With over 40 years of experience in the design and development of heavy-duty manure spreaders, Meyer's Equipment Manufacturing Corporation produces more than just machinery.
American Farmer will also feature Fresh Quest, Inc., one of the leading suppliers of fresh melons to the United States. Since 1993, Fresh Quest, Inc. has been producing the highest quality products. Television audiences nationwide will be amazed by the benefits of a diet rich in fresh fruits and vegetables, and more specifically, by Fresh Quest's offshore melon production facility.
Additionally, this episode of American Farmer will showcase Heartland Dairy, the largest dairy in Missouri, with more than 4,500 milking cows and another thousand more cows in the field. Audiences will be impressed by their cutting-edge technology, which allows them to milk up to 60 cows at one time.
"This episode of American Farmer is going to be truly amazing," said Charlie Cowan, Senior Producer for American Farmer. "We're really looking forward to watching everything come together in this episode airing on November 6th, and we hope everyone tunes in to watch as American Farmer takes a behind-the-scenes look at the companies whose innovative technologies and advancements are changing the agriculture industry."
About American Farmer:
American Farmer is a breakthrough program on a mission to showcase the latest advancements in agriculture and farming. From seed to harvest, livestock and more, our producers have traveled the country covering the people, places and issues impacting all areas of farm country.
About DMG Productions:
The DMG production team consists of producers, cameraman and editors that have worked for CNN, TLC, Discovery, and other major news and cable networks. Our staff includes personnel specialized in various fields from agriculture to medicine, independent films to regional news. Our field producers utilize the core concepts from our producers who storyboard our programs, and work closely with experts in the field to develop the educational programs. This powerful force enables us to consistently produce commercial-free, educational programming that both viewers and networks depend on.
Contact:
Charlie Cowan
Senior Producer, American Farmer / DMG Productions
(866) 496-4065 X 875
charles(at)dmgproductions(dot)org