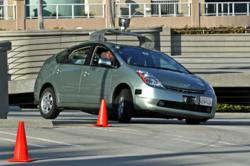 Los Angeles, CA (PRWEB) November 08, 2012
Just last year, a "driverless car" seemed more like something from a sci-fi movie than an item you might find on your local dealer's lot. However, Governor Brown's signature on Senate Bill 1298 shows that the technology is already in place to mass-produce these vehicles and that California's governor is taking the issue of safety regulations seriously.
The pressure to sign this bill did not come only from people who want to own one of the first futuristic vehicles, however. Google, Inc., which developed much of the driverless technology, has been pushing for such legislation for some time. Safety groups are also voicing their concerns, especially those focused on distracted driving and the lack of mobility for disabled drivers. These groups hail the "self-driving" car as a step forward in reducing accidents and injuries.
Not everyone is supportive, however. The Alliance of Automobile Manufacturers has voiced concern over the fact that owners of current vehicles may attempt to modify them into driverless cars, which could result in liability for the original car manufacturer. There has also been concern that focus on new and expensive technology could take attention away from other important issues and end up costing the state a great deal of money. The bill requires the California Department of Motor Vehicles to draft safety regulations for these vehicles by 2015, a job that will mean thousands of work hours in an agency whose budget and time is already strained.
The legal community is looking at the issue from a different angle, namely: who is responsible for an accident in a driverless car? The current legislation requires that a licensed driver be behind the wheel at all times to take over in case of malfunction, but this does not mean that the designated driver will be giving the road one hundred percent attention. As attorney Jeff Nadrich states, "No technology will ever replace human decision-making and judgment; it stands to reason that 'driverless cars' will, at some point, create liability issues that must be addressed. If drivers give up control of their vehicles and turn their attention to other tasks while on the road, accidents will happen at some point."
The liability issues surrounding these future collisions will require the courts to address driverless technology at some point. For now, the questions and speculations regarding autonomous cars remain tantalizing—and unanswerable.
About Nadrich & Cohen
Jeffrey Nadrich of Nadrich & Cohen has handled automobile liability cases for more than 20 years. Through a network of 14 offices throughout California, Nadrich & Cohen represents victims in all types of accident cases.
Attributes: SF Gate, "California governor signs driverless cars bill," Terence Chea, September 25, 2012.
Senate Bill 1298, draft of bill text.
Alliance of Automobile Manufacturers
California Department of Motor Vehicles